Verboticism: Ornamaximental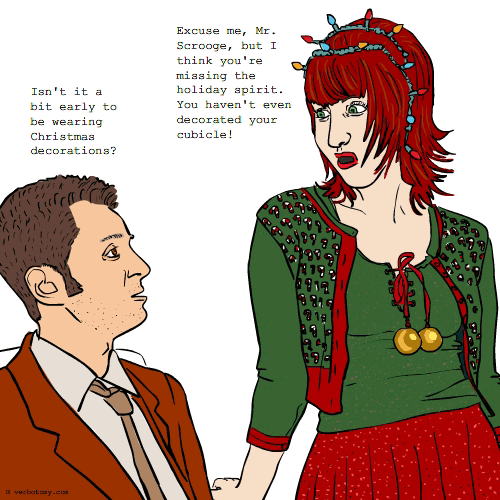 DEFINITION: n., A person so enamored with the holidays that they don't just deck their halls and home, but they also decorate their car, their cubicle, their pets, and themselves. v., To obsessively decorate according to seasonal holidays.
Already Voted
Vote not counted. We have already counted two anonymous votes from your network. If you haven't voted yet, you can login and then we will count your vote.
---
Ornamaximental
You still have one vote left...
Created by: OZZIEBOB
Pronunciation: JOO-buh-LAK-ee
Sentence: For Bob, a jubilackey, and, especially, a yulethrall, festinfatuation, with the feriations of the whole world, continued year-long with 365 red-letter days.
Etymology: Blend of JUBILEE: A season of general celebration, holiday and rejoicing & LACKEY: Slave(slang); disciple, follower
----------------------------
COMMENTS:
Good one Bob! - emdeejay, 2008-12-09: 22:22:00
----------------------------
Created by: galwaywegian
Pronunciation: fes too nat ik
Sentence: he was such a mad festoonatick he tied some sleigh bells on his duck christmas quackers!
Etymology: festoon, lunatic
----------------------------
COMMENTS:
Fantastic and funny - silveryaspen, 2008-12-09: 11:06:00
----------------------------
Created by: artr
Pronunciation: tinsəlkloun
Sentence: Gloria is such a tinselclown. She rarely has enough decorations for her Christmas tree because she is wearing most of them starting the day after Thanksgiving. Others call it Black Friday. She calls it Sparkle Friday. You should see her at Easter.
Etymology: tinsel (a form of decoration consisting of thin strips of shiny metal foil) + clown (a comical, silly, playful person) Derivative of Tinseltown (Hollywood, or the superficially glamorous world it represents)
----------------------------
COMMENTS:
Yule (you'll) log in warmth and laughter with this excellent verbotomy - silveryaspen, 2008-12-09: 11:19:00
Very nice - OZZIEBOB, 2008-12-13: 16:11:00
----------------------------
Created by: mimoru
Pronunciation: over tinsel ation
Sentence:
Etymology:
Created by: hendrixius
Pronunciation: /noe-well-lee-tist/
Sentence: This noelitist jerk just spent an hour informing me of the history of Saint Nick - I mean, come on, I have a Labor Day picnic to get to...
Etymology: "noel" and "elitist"
----------------------------
COMMENTS:
funny - Jabberwocky, 2007-12-03: 15:59:00
Good one! - Tigger, 2007-12-03: 21:14:00
----------------------------
Created by: Jabberwocky
Pronunciation: reeth/flex
Sentence: Once the first snowflake has fallen it is an automatic wreathflex to bedeck and festoon everything within eyesight with garlands and bows and silver bells...ahhh gives me goosebumps. 'deck the halls with boughs of holly, fa la la la la la la la la'
Etymology: wreath + reflex
----------------------------
COMMENTS:
Clever create and Christmas carolling for our delight - silveryaspen, 2008-12-09: 11:08:00
Incredible. - nickmarziani, 2008-12-09: 11:52:00
BRILLIANT!! EASILY ONE OF THE BEST WORDS THIS MONTH!!! - Stevenson0, 2008-12-09: 17:38:00
We are wreathed in smiles... - Nosila, 2008-12-09: 23:19:00
----------------------------
Created by: Osomatic
Pronunciation: sigh + claws + tic
Sentence: My mom has over 152 Santa Claus figurines of one sort or another, and drags them out every Christmas - I guess you could say she's psyclaustic.
Etymology: psychotic + claus
Created by: nickmarziani
Pronunciation: tan-in-bum
Sentence: Jesus Christ on a cross, I can't believe how hard Ross is tannenbumming it today. Seriously--holly print leotards?
Etymology: O Tannenbaum, o Tannenbaum, wie treu sind deine Blätter! (+ bum)
Created by: mrskellyscl
Pronunciation: deck-sess
Sentence: Norma was anything but normal over the holidays. To say that she got into the holiday spirit was an understatement to say the least. In fact, she would decorate to decksess. Her house was so brightly lit with twinkie lights that it could be seen from the space shuttle, and her yard was bedecked and littered with moving reindeer, angels, blowup santas, Peanuts characters and huge, giant snow-globes containing Eeyore and Winny-the-Pooh. In her house she had a large Menorah next to her silver Christmas Tree and her Kwanzaa candles. She would come to work wearing reindeer antlers and a large string of twinkie lights around her neck. We found it amusing, then, when we asked her about her religious observance. "I don't believe in the religious stuff," she said, "I just like to decorate."
Etymology: deck: to decorate (as in "Deck the Halls") + excess: exceeding what is normal or sufficient
----------------------------
COMMENTS:
I think I\'ve met Norma. - artr, 2009-12-14: 12:51:00
----------------------------
Created by: dapoliti9292
Pronunciation:
Sentence:
Etymology: