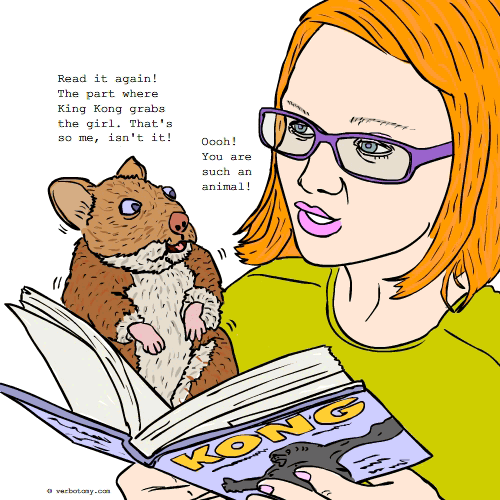 DEFINITION: v. To identify so strongly with character from a book, show, or urban legend, that you become convinced that the story is actually about you. n., A person who believes they are a fictional character in wonderfully tragic and heroic story.
Voted For: Fictuator
Successfully added your vote For "Fictuator".
You still have one vote left...
Created by: Uzbazur
Pronunciation: OOZBAHZOOR
Sentence: Uzbazur Ashwaurz
Etymology: Black Drum
Created by: TJayzz
Pronunciation: In-the-man-er-joe-ns
Sentence: Tony was such a great fan of action movies he would often daydream about taking the lead part. Lately he had watched so many he had convinced himself that he truly was inthemannerjones and even went out and bought a hat and a whip!!
Etymology: See Indiana Jones(Action/adventure film)
----------------------------
COMMENTS:
nice - Jabberwocky, 2008-11-17: 12:57:00
----------------------------
Created by: Dougalistic
Pronunciation: Chorse-er-thigh
Sentence: Im reading this book called "The Lost Life of a mis-understood husband" and im convinced it's all about me.' Mate, seriously get out more, you don't need to chaucerfy yourself over it. It's probably your mind!
Etymology: Geoffrey Chaucer (c. 1343 – October 25, 1400) was an English author, poet, philosopher, bureaucrat, courtier and diplomat nicknamed the father of english literature. fy - as in 'mystify' or words with fy at the end.
----------------------------
COMMENTS:
maybe chaucerfry would work too - Jabberwocky, 2008-01-24: 13:04:00
Yes, he does need to get out more: otherwise he might turn a "whiter shade of pale!" - OZZIEBOB, 2008-01-24: 15:50:00
----------------------------
Created by: libertybelle
Pronunciation: pre-tend-go-nyst
Sentence: Trina is such a pretendgonist that after she read Romeo and Juliet she believed she was one of the main characters so deeply that she began making funeral arrangements and walking around in mourning for her dear departed Romeo; she snapped out of it when I reminded her that if she is Juliet, then she died too.
Etymology: pretend- to make believe + protagonist - main character in a story
----------------------------
COMMENTS:
excellent - Jabberwocky, 2008-11-17: 12:56:00
Brilliantly literate. - metrohumanx, 2008-11-19: 20:14:00
----------------------------
Created by: Mustang
Pronunciation: tranz - MOG - ruh - fan - see
Sentence: While reading fantasy stories Mary Beth would often transmogrifancy and actually come to believe she was the heroine in the story.
Etymology: Transmogrify + fancy (fantasize)
----------------------------
COMMENTS:
Anyone that takes a root word from Calvin and Hobbes has my automatic vote. - Banky, 2008-01-24: 15:35:00
----------------------------
Created by: purpleman
Pronunciation: dream/a/tion
Sentence: its like day dreaming
Etymology: dream+ation
Created by: artr
Pronunciation: shamēlyən
Sentence: Joey is a shameleon. When he goes to a movie or play, he often leaves with the feeling that he is somehow connected to the hero and can do much of what was depicted. He has to be very careful choosing what he goes to see. Bond movies? Trouble! Dukes of Hazard? Wrecked his car! His pet gecko may be in trouble if he goes to see **How to train your dragon**.
Etymology: sham (a thing that is not what it is purported to be) + chameleon (a small slow-moving Old World lizard with a prehensile tail, long extensible tongue, protruding eyes that rotate independently, and a highly developed ability to change color)
----------------------------
COMMENTS:
sHAMELESS - Nosila, 2010-04-16: 23:19:00
----------------------------
Created by: avklive
Pronunciation:
Sentence: Reading about strong people impresses me strongly - I'm such a readceptor!
Etymology: reader + perception
Created by: porsche
Pronunciation: osten/tay/shush
Sentence: There is an austentatious group that hangs out in the park wearing period clothing.
Etymology: ostentatious + jane austen
Created by: OZZIEBOB
Pronunciation: fik-to-MEY-nee-ak
Sentence: Obsessed by Disney characters, and an imaginaut, whose mythobolism made him a frazzled fictomaniac, Bob's "plutolatry" finally convinced him of his true identity.
Etymology: Blend of Fiction & mania
----------------------------
COMMENTS:
Wow. That sentence packs a punch! - metrohumanx, 2008-11-19: 20:20:00
----------------------------