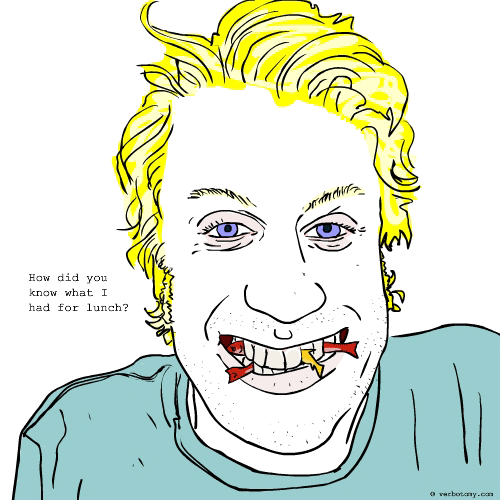 DEFINITION: n. The bits of food, and other debris, that get stuck between your teeth. v. To smile brightly and proudly unaware that you have a big piece of food stuck in your teeth.
Already Voted
Vote not counted. We have already counted two anonymous votes from your network. If you haven't voted yet, you can login and then we will count your vote.
---
Dentadebris
You still have one vote left...
Created by: Jabberwocky
Pronunciation: floss/sum/and/jet/jam
Sentence: The dentist disapproved of my flossumandjetjam system of dental hygiene but I couldn't resist keeping those little morsels of jam seeds between my teeth for afternoon snacking.
Etymology: flotsan and jetsam (floating debris) + floss + jet (black) + jam
----------------------------
COMMENTS:
You get my vote, but it should be mentioned that flotsam and jetsam aren't necessarily floating debris. According to Brewer's Phrase and Fable, flotsam is debris that has washed up onshore. - Clayton, 2007-05-24: 07:21:00
Thanks Clayton - I'll have to revise my character and have him living as a beach bum, sleeping on the sand with his mouth open - Jabberwocky, 2007-05-24: 08:48:00
Hey Jabber, what mug did you decide on? I loved your "gomerpiles". - purpleartichokes, 2007-05-24: 13:02:00
good suggestion Purple - I just might get that one - which one did you choose? Going back a long way, I liked camime - Jabberwocky, 2007-05-24: 16:16:00
I did snuffleupaguest. I just like the sound of it. - purpleartichokes, 2007-05-24: 16:26:00
----------------------------
Created by: guesser
Pronunciation: Smile - smack - ers
Sentence: Before a job interview check yourself for smilesmackers!
Etymology: Smile (to grin) + Smack (trash) + ers
Created by: benjamin
Pronunciation: STICK-ul
Sentence: Broccoli is basically just hundreds of sticktles that grow together on a stalk.
Etymology: stick + little. Incidentally, it also kind of sounds like skittle.
Created by: MissRabbit
Pronunciation: grin-kle
Sentence: Look over there - that guy has some nasty brown grinkle in his teeth. What did he eat?
Etymology: grin, as in a smile 'nk' from 'junk'
----------------------------
COMMENTS:
Grinkle: One of those words like yimble and jubiosity - not in any English dictionary,but should be. Great word. - OZZIEBOB, 2008-07-23: 07:32:00
----------------------------
Created by: playdohheart
Pronunciation: part-ick-kles
Sentence: Even though Inspector 34 enjoyed his date with the Metermaid, the partickles in her teeth made her disturbingly imperfect.
Etymology: food particles + ick
----------------------------
COMMENTS:
I'd find all that giggling from the tickles on her gums disturbing too. - petaj, 2007-05-24: 06:21:00
----------------------------
Created by: OZZIEBOB
Pronunciation: DENT-bree
Sentence: When Roxie told Bob that he should read "Mildew on the Floss," it was a desperate, last ditch attempt to tell him that he should do something about his dentbris.
Etymology: Blend of DENT:pertaining to tooth,teeth & DEBRIS: Accumulation of anything broken, ruined , in pieces.
----------------------------
COMMENTS:
love "Mildew on the Floss" - Jabberwocky, 2008-07-22: 12:41:00
Hahahaah....good one OZZIEBOB! - metrohumanx, 2008-07-22: 14:22:00
----------------------------
Created by: Clayton
Pronunciation: ri-TEYN-der
Sentence: Chris smiled for the photographers, unwittingly revealing a corned beef and broccoli retainder.
Etymology: retainer + remainder
Created by: metrohumanx
Pronunciation: DEE-TRIT-IH-CULL
Sentence: Dorothy said she went to the restroom, but when she returned to the circulation desk and flashed her toothy smile, one could see the DETRITICLE all over her teeth. Clearly, nature's call was pre-empted by the irresistable lure of the muffin shoppe. dee-TRIT-icle
Etymology: DETRITus+partICLE DETRITUS is non-living particulate organic material ... PARTICLE-small granular object, sometimes gross or revolting, that exhibits no newtonian motion.
----------------------------
COMMENTS:
http://www.ifla.org/I/humour/humour.htm - metrohumanx, 2008-07-22: 14:21:00
I've been up in the hills too long. - metrohumanx, 2008-07-22: 14:23:00
great etymology - Jabberwocky, 2008-07-22: 15:54:00
----------------------------
Created by: Nosila
Pronunciation: den try tus
Sentence: Andrew's eating habits were so disgusting, that he usually had to dine alone. He ate messily and loudly and you could guess what menu he had by all the dentritus left behind. His friends nicknamed him "Leader of the Plaque".
Etymology: Dental (of the teeth) & Detritus (the remains of something, refuse)
----------------------------
COMMENTS:
So good I might as well vote for it now. :) - Discoveria, 2012-09-20: 04:24:00
Ooo, I should have read today's words before making mine. Interestingly, they are all very similar. - Rhyme79, 2012-09-20: 10:53:00
Cheers...like both your words, too! - Nosila, 2012-09-21: 01:19:00
----------------------------
Created by: lumina
Pronunciation: tooth/stik
Sentence: For some reason all the ladies in Josh's "Be a Vegan, Save a Cow" cooking class were not finding him as charming as they usually did. Not only were they no longer laughing at his jokes tonight, but some were giving him nasty looks from across the room. Unbeknownst to him he had a few toothsticks from the scarf-fest earlier at McDonald's. Yes, it was obvious to the women that he had been charming for weeks that he was NOT the vegetarian he claimed to be!
Etymology: Derived from toothpick: A small stick of wood, plastic, metal or other substance used to remove food from the teeth, usually after a meal. A toothSTICK is when a meal hangs around for an encore. :)