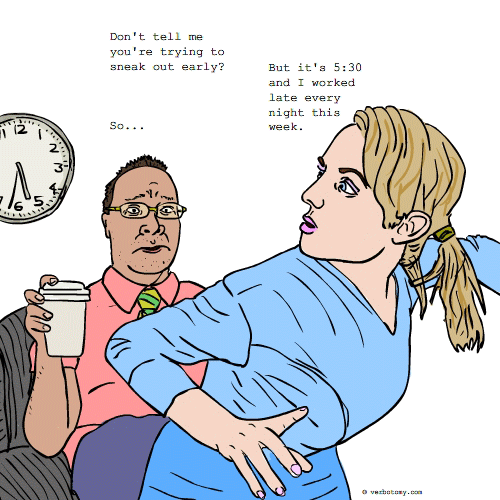 DEFINITION: n. A type of frustration created by a manager who never notices when you work late, but always nags you for leaving early whenever you leave on time. v. To carefully monitor your subordinates to ensure that they never leave work a minute early.
Already Voted
Vote not counted. We have already counted two anonymous votes from your network. If you haven't voted yet, you can login and then we will count your vote.
---
Obeywatch
You still have one vote left...
Created by: Nosila
Pronunciation: o bay weatch
Sentence: Mr.Smedley fancied himself a dedicated disciple of the obeywatch old school of management. He decided that those employees who had the misfortune to report to him were not to be trusted with important things like personal time management. Far too often they let their personal lives get in the way of being at work. Imagine calling in sick and failing to come in just because you broke a leg or had minor surgery, like an appendicitis. Where was the loyalty these days? So what if there were days they worked for 12 hours straight and other days when the work flow slowed down? He still expected them to be there 9 to 5, without exception. He positioned his desk near the time clocks, so no one could sneak out past him. He recorded all these indiscretions in a black book. Needless to say, morale was at an all time low and fuses were getting shorter at such treatment. One of these days, someone would go postal and punch out his time clock permanently!
Etymology: obey (be obedient to) & watch (a purposeful surveillance to guard or observe;a small portable timepiece;a person employed to watch for something to happen) & Baywatch(you know,that show, where Hoff says, "Hey we gotta save that guy!" and Pamela goes boing, boing, boing running down the beach after him carrying that red thing...)
----------------------------
COMMENTS:
That's hard to beat - petaj, 2008-04-23: 02:50:00
I guess the "mean" in 'GMT' meant everything to him! Very clever. - OZZIEBOB, 2008-04-23: 06:25:00
----------------------------
Created by: jrogan
Pronunciation: tik-com-poop
Sentence: My boss is a real ticcompoop. He even has a ticcompooter to calculate how may seconds we spend in the washroom.
Etymology: tick + nimcompoop
Created by: petaj
Pronunciation: tick - off
Sentence: We turn a blind eye to staff showing up early to work but we are rigorous about tickoff procedures and plan to appoint a manager to ensure that all staff are ticked off in an efficient and pleasant manner.
Etymology: tick (of the clock) off (as in off home, sign off, off the clock) ticked off (pissed off) tick off (cross off the list as each subordinate leaves the office)
Created by: Stevenson0
Pronunciation: klok/stawk
Sentence: Jim, our obnoxious, irritating, micro manager, clockstalks every employee ensuring that they give 110% of their working time to the company.
Etymology: clock + stalk
----------------------------
COMMENTS:
Great word with many applications. - OZZIEBOB, 2008-04-23: 17:47:00
----------------------------
Created by: galwaywegian
Pronunciation: tok tik ree lay shun ship
Sentence: The interaction, which had always borne the hallmarks of a tocktickrelationship ended badly. The subsequent surgical attempts to reverse the offense which led to its demise proved unsuccessful, leading to extreme embarassment every time her now ex-boss had to travel abroad. He would regularly be stopped and stripsearched at airports and advised by security staff that it was the first time they had found somebody trying to smuggle a twenty dollar watch out of the country using that particular technique.
Etymology: tock tick, toxic relationship
----------------------------
COMMENTS:
reminds me of the crocodile in Peter Pan but then that would be a croctocktickrelationship - Jabberwocky, 2008-04-23: 08:59:00
But this is just pretend so it is a mocktocktickrelationship, but if it was in the clinic, it would be a doctocktickrelationship or in a gym, a jocktocktickrelationship or in a hosiery store, a socktocktickrelationship...it's endless possibilities! - Nosila, 2008-04-23: 20:34:00
...or between sports acne physicians, a pockmarkjockdoctocktickrelationship - stache, 2008-04-23: 21:57:00
What have I begun? - galwaywegian, 2008-04-24: 04:40:00
----------------------------
Created by: scissorlips
Pronunciation: klahk-blahk
Sentence: Emily was frequently at work well past closing time, finishing loose ends, making up time that was perhaps wasted by her co-workers. However, Fred, her boss, was always right there; a serious pain-in-the-butt that knew nothing of her week and clockblocked her just because she wanted to beat rush hour on Friday.
Etymology: Blocking progress based on a mutually visible clock.
----------------------------
COMMENTS:
mad props - daniellegeorge, 2008-04-24: 13:18:00
----------------------------
Created by: Nosila
Pronunciation: klok a doo dell doo
Sentence: Cylla Stration thought it would be a fun job drawing for a comic book company. Until she met her boss, Mr.Art Work. His policy was that no artist left for the day unless they completed a whole comic book. So he sat by the only exit, by the time clock and monitored his staff. No one left until they could clockadoodledue.
Etymology: Clock (time measurement piece) & Doodle (scribble a drawing on paper) & Due (something owed)
----------------------------
COMMENTS:
clever - Jabberwocky, 2009-06-16: 13:11:00
Cute! - Mustang, 2009-06-17: 00:47:00
----------------------------
Created by: mrskellyscl
Pronunciation: time-peep-er
Sentence: Helen suspected that Tom, the manager, was a timpeeper when she saw him standing by the coffee machine watching every move she made and checking his watch to make sure her break wasn't too long. He was always at the door in the morning with a creepy look on his face watching her take off her coat and he was there in the evening when she put her coat back on to go home. He was seen peeping over the top of her cubicle to make sure she wasn't on Ebay instead of working and wasting company time. One day, however, he went too far and followed her to the ladies room to see that she didn't take too long. He was caught on a surveilance video and her attorney had no problem filing a harassment suit.
Etymology: play on timekeeper -- peeper: voyeur (Peeping Tom)
----------------------------
COMMENTS:
The peep became a purp! Good word. - Nosila, 2009-06-16: 10:45:00
Excellent - Mustang, 2009-06-17: 00:45:00
----------------------------
Created by: Mustang
Pronunciation: Snew-per-vize
Sentence: Melody was definitely a hands on snoopervisor who monitored every aspect of her subordinates daily activities, even making note of their bathroom breaks, trips to the water cooler and time spent on the phones.
Etymology: Blend of 'snoop' (nosy person) and 'supervise' (be in charge)
Created by: bookowl
Pronunciation:
Sentence: Rita is a lovely metermaidservant who worships the clock.
Etymology: meter maid + maid servant