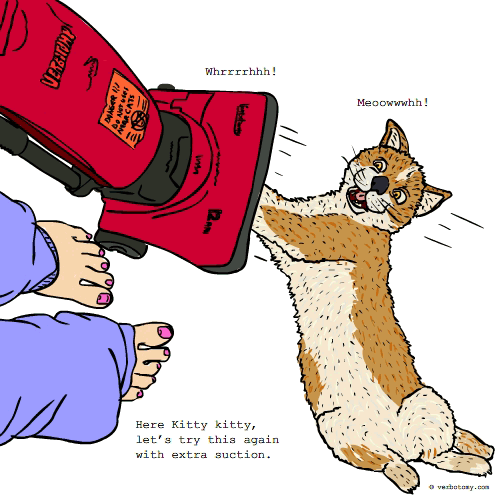 DEFINITION: v. To pick up a piece of lint from the floor that your vacuum missed, and then drop it in front of the vacuum again, to give the vacuum another chance to suck it up. n. A piece of lint that a vacuum will not pick up.
Already Voted
Vote not counted. We have already counted two anonymous votes from your network. If you haven't voted yet, you can login and then we will count your vote.
---
Resuckitate
You still have one vote left...
Created by: galwaywegian
Pronunciation: iff aht furst ewe dohnt suk seeeeeed
Sentence: ifatfirstyoudontsuckseed, purrsevere
Etymology: if at first you don'r succeed, suck
Created by: stache
Pronunciation: rē'kə-pĭch'ə-lĭnt'
Sentence: Herb couldn't tell what the stubborn little piece of greenish fluff on the carpet in the cargo bay of his Land Rover was, but it refused to be taken after several passes with the ShopVac(tm). Finally he recapitulinted by picking it up and dropping it into the nozzle.
Etymology: 'recap,' to summarize or go over; 'itu,' Bantu translation of 'It's You,' from the song from 'Music Man' ( It's you in the sunrise, it's you in my cup. It's you all the way into town. It's your sweet "Hello, dear" that sets me up And it's your "Got to go, dear" that gets me down, etc.); 'lint,' miscellaneous microscopic mercurial matter.
----------------------------
COMMENTS:
BTW, "It's You" is quite moving in the Bantu performance of "Music "Man." - stache, 2008-04-04: 07:08:00
another great etymology - Jabberwocky, 2008-04-04: 08:49:00
----------------------------
Created by: dochanne
Pronunciation: Suck-ree-lint
Sentence: Dana was a neat-freak and couldn't stand her house-mate's cat leaving ginger hairs on the white carpet. She vacuumed and vacuumed but there'd always be one no matter how much she tried, so she bought a new uber-vaccum with industrial power. Now she wouldn't have to succrelint the carpet six times to satisfy her neurosis, in fact.. where was that cat?
Etymology: Succulent - desert plant which sucks water and hold its efficiently, also used by indigenous peoples to suck water from. Suck - what vaccum cleaners do. Succor - assistance, as when you have to run the vacuum over twice.. Relent - give in, yield, get sucked in.. Lint - miscellaneous fluff that's always out of place. Sacrement - rite, ceremony or ritual which is repeated. Some people are quite ritualistic about their lint removal.. Sacrilegious - the disrespectful assault of cats with vacuum cleaners.
Created by: Kennecticut
Pronunciation: lint~assesment
Sentence: With her thumb and forefinger lintassesment tool, it was confirmed that this filament could be removed. She turned to page 32 of the manual on ' The right tool for the job' and found she needed the enticement tool, stored adjacent to the crevice tool. Noting the enticement tool has a row of brushes to if not actually vacuum the lint then at least entrap it for later cleaning of the enticement tool itself. The thumb and forefinger lintassesment tool also works well for this specialized task. She might have done just as well utilizing the black slack lint magnet tool. Maybe next time, then she can leave the work up to the professionals and the dry cleaners.
Etymology:
Created by: toadstool57
Pronunciation: mal-ev-o-lant
Sentence: Jill and her super sucker are no match for the malevolint fiber clinging to the carpet. She tries sucking it, pulling it, and picking it. She finally decides it's easier to call the local store to change the carpet in the room.
Etymology: malevolent,(evil,harmful)/lint(fiber)
----------------------------
COMMENTS:
nice - bookowl, 2008-04-04: 15:55:00
----------------------------
Created by: Jabberwocky
Pronunciation: fluff/ur/hug/ur
Sentence: I gave up vacuuming and threw out all the carpets just to be free of the flufferhuggers. Now I have a warren of dust bunnies to contend with.
Etymology: fluff + hug + fluffernutter ( a peanut butter marshmallow combination)
----------------------------
COMMENTS:
Cute! - purpleartichokes, 2008-04-04: 06:41:00
----------------------------
Created by: OZZIEBOB
Pronunciation: vak-SEL-uh-beyt
Sentence: "Fingernail", who for so long, somehow, managed to avoid being sucked up, finally succumbed. But just after she was lifted up, there was movement inside the bag and she feared she was about to be split in half. There in front of her was her friend, "Cotton-bud" looking used, abused, and a little worse for wear. Blackened by several layers of mascara, and her face covered in rouge, it was the bedraggled "CB" who spoke first. "Where's "Ivory Button," she said. "Oh, you know what it's like, with her its a matter of life-choice, replied Fingernail. Even Casahoova, himself - "Mr Super Deluxe" with his long proboscis and pulling power, couldn't move her. Sure he tried, and really sucked up to her; caressing, cajoling, cooing and wooing. But Heaven forbid she suckmit to him and his pushy ways. She's an inveterate vaccelibate, who wouldn't allow herself to be picked up by a sucker like him."
Etymology: VAC:short for vacuum cleaner & CELIBATE: one who abstains from sexual relations - and, certainly, wouldn't allow him or herself to be "picked-up."
----------------------------
COMMENTS:
I think she turned Casahoova into Casahoovanovay - Jabberwocky, 2008-04-04: 08:46:00
----------------------------
Created by: lplybon
Pronunciation:
Sentence:
Etymology:
Created by: Nosila
Pronunciation: ee lek tro lax
Sentence: When Jane Edgar Hoover tried to clean the cat hair from her rugs, she found her vacuum cleaner became an Electrolax. That nice door-to-door salesman had showed her the tufts of cat hair he had collected with the machine he sold her. She just failed to notice by now that the ones he emptied from the demo machine were a black color...unlike her Ginger Tom, Marmalade's, natural fur colour.
Etymology: Electrolux (The Electrolux Group is a Swedish appliance maker, including vacuum cleaners) & Lax (tolerant or lenient)
Created by: Nosila
Pronunciation: hoo ver man oov er
Sentence: It was a catatonic experience when Miranda did her hoovermaneuver and sucked up half the cat.
Etymology: Hoover (brand of vacuum) & Maneuver (an action aimed at evading an opponent)