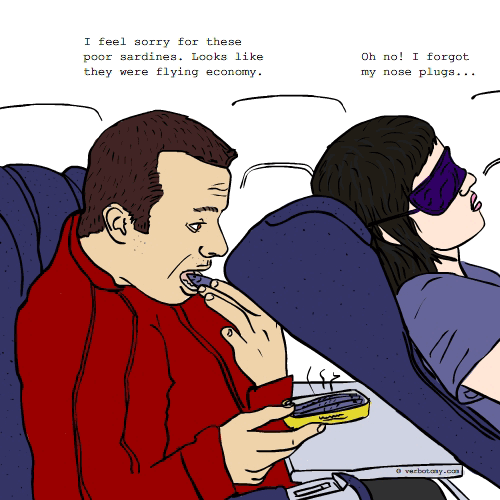 DEFINITION: n., A feeling of discomfort, common while sitting on a plane or train, created by the sense that you are about to be decapitated by your fellow passengers who are tilting aggressively towards you. v. To sit in a very small space, which seems to be getting smaller.
Already Voted
Vote not counted. We have already counted two anonymous votes from your network. If you haven't voted yet, you can login and then we will count your vote.
---
Claustract
You still have one vote left...
Created by: petaj
Pronunciation: un-easy
Sentence: At 190cm tall, Jock always felt unkneezy when travelling in a plane. Every tilt of the chair in front and his knees were compressed against his seat tray.
Etymology: uneasy + knees
Created by: OZZIEBOB
Pronunciation: kram-BIV-uh-luh ns
Sentence: As the 500lb Sumo wrestler quaked tectonically to and fro in the seat immediately in front of his, Bob's crambivalence faltered between the fear of being squeezy-chaired, and the hope of having a fabulous fortnight in The Philippines.
Etymology: Blend of CRAM: to press something into something else; jam or cram beyond the normal comfortable capacity, as on a plane or train & AMBIVALENCE: similar conflicting feelings; mixed feelings of uncertainty or emotion, as between safety & unsafety.
----------------------------
COMMENTS:
Another good combo! - silveryaspen, 2008-01-29: 09:11:00
once again, I'm wowed by your extra words - love squeezy-chaired - Jabberwocky, 2008-01-29: 13:26:00
great word! - bananabender, 2008-01-29: 22:27:00
----------------------------
Created by: sly1975
Pronunciation:
Sentence:
Etymology:
Created by: artr
Pronunciation: kramyoōtr
Sentence: More and more people are using the public transit system. This increase has left Tom feeling like a crammuter. He was used to a quick snack on his way to work but the crowding has made him a sardiner.
Etymology: cram (put something quickly or roughly into something that is or appears to be too small to contain it) + commuter (traveler)
Created by: artr
Pronunciation: trishkəmpaktər
Sentence: Patty thought her Smart car was a great idea when she first ordered it. Now, every time she looks at it, it seems to get smaller. It's even worse when she gets in and drives it anywhere. Wedged between a couple of 18-wheelers, it becomes a real Trishcompactor. Her 250-pound friend Noah refers to his as his Noahconstrictor.
Etymology: Trish (nickname for Patricia) + compactor (a device that compresses trash)
----------------------------
COMMENTS:
Maybe Trish & Noah should carpool. It might bring them closer. - wayoffcenter, 2008-11-20: 06:03:00
Great pun fun with names ... a real smile awhile. - silveryaspen, 2008-11-20: 07:40:00
love Noahconstrictor - Jabberwocky, 2008-11-20: 11:40:00
I really debated with myself whether to officially enter Trishcompactor or Noahconstrictor. - artr, 2008-11-20: 12:53:00
fabulously funny -luv: noahconstrictor. Throes a diferent light on the Ark. - OZZIEBOB, 2008-11-20: 16:22:00
Love both names...plus I hate SMART cars...where would I put my purse or groceries in one??? - Nosila, 2008-11-20: 19:42:00
EGAD! That's hilarious! - metrohumanx, 2008-11-21: 08:29:00
----------------------------
Created by: Tigger
Pronunciation: /i-kon-uh-miz'-uh-ree/
Sentence: Before the technology stock bubble burst, Richard had always flown first-class, but now, crammed into the back with the rest of the average Joe's, he was nearly overcome with economisery, and recumbentrauma caused by the seat in front of him reclining back so suddenly that he dropped his meager ration of peanuts, and couldn't bend down to retrieve them.
Etymology: economy - Economy class; the cheapest class of travel accomodations (from Greek, oikonomíā "household") + misery - wretchedness of condition or circumstances (from Latin, miseria, equiv. to miser "wretched")
----------------------------
COMMENTS:
clever blend! - bananabender, 2008-01-29: 22:23:00
Really brings out the miserly feelings in this definitions! - silveryaspen, 2008-01-29: 23:59:00
----------------------------
Created by: bananabender
Pronunciation: KLOZ-it-ud
Sentence: It's easy to pick out the peak hour train passengers who are so over that clositted feeling. They're the ones wearing the sleeping masks, the overcoats with the punk spikes on the sleeves, and chewing on raw garlic cloves.
Etymology: Combo of closet, close & sit, -ted to make it sound cool.
----------------------------
COMMENTS:
Sorry for so few comments from me just lately. I've been minding the grandchildren. We all survived and I'm back home now! - bananabender, 2008-01-29: 05:48:00
Great word! - silveryaspen, 2008-01-29: 09:04:00
----------------------------
Created by: DaddyNewt
Pronunciation: ree/po/ZO/sis
Sentence: Larry felt a twinge of repososis as he took the window seat behind the sleepy sumo wrestler.
Etymology: repose + neurosis
Created by: Banky
Pronunciation: loon-net-tick
Sentence: As soon as the second obese man had settled to his right on the aisle, Roger noticed the seat in front of him. Down it crawled, inexorably lower with every passing second, wicking the sweat out of Roger, turning his hands clammy as the corpse he would inevitably become. His heart raced furiously as he calculated his escape, but it was too late; the plush polyester blade sat before him, adorned with a tacky 80s multi-color motif. So this is how it ended, huh, wedged between two Brandoesque men, a crazed lunettetic whose last meal was 5 stale pretzels.
Etymology: lunette - the portion of the guillotine that fixed the head in place, composed of two blocks each with semi-circular indentations + lunatic - an insane person
----------------------------
COMMENTS:
Lunette describes Marie Antoinette ... so perfectly, your word we aren't likely to forget! Very interesting! - silveryaspen, 2008-01-29: 09:35:00
fantastic paragraph - Jabberwocky, 2008-01-29: 10:43:00
great sentence! Your word and sentence captures the essence of the definition so well. - bananabender, 2008-01-29: 18:46:00
----------------------------
Created by: Nosila
Pronunciation: ram pan tranzit
Sentence: Ricky often wondered, just for the halibut, how much deeper a sleep the passenger in front could possibly get by going 3 inches back to encroach on his tiny space???
Etymology: rampant (uncontrolled) & transit (passage or journey)