Verboticism: Holidayationist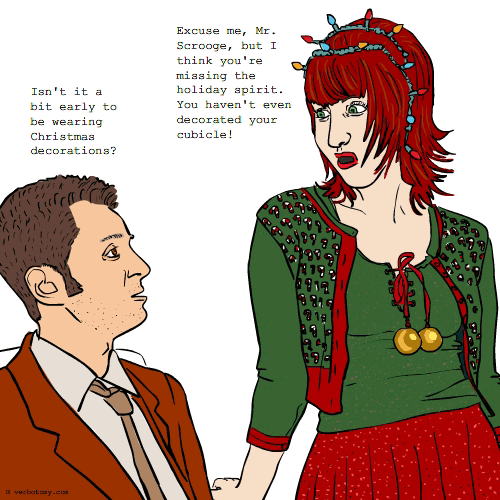 DEFINITION: n., A person so enamored with the holidays that they don't just deck their halls and home, but they also decorate their car, their cubicle, their pets, and themselves. v., To obsessively decorate according to seasonal holidays.
Already Voted
Vote not counted. We have already counted two anonymous votes from your network. If you haven't voted yet, you can login and then we will count your vote.
---
Holidayationist
You still have one vote left...
Created by: AliA415
Pronunciation:
Sentence:
Etymology:
Created by: Osomatic
Pronunciation: sigh + claws + tic
Sentence: My mom has over 152 Santa Claus figurines of one sort or another, and drags them out every Christmas - I guess you could say she's psyclaustic.
Etymology: psychotic + claus
Created by: Carla
Pronunciation: Noun: seh-leh-brA-dikt Verb: seh-leh-bruh-dIkt
Sentence: Noun: The celebraddict forbade the others from approaching the Christmas tree - she alone knew where the baubles should hang. Verb: Her compulsion was such that she took tinsel everywhere, needing even to temporarily celebraddict her seat on the bus.
Etymology: Celebrate + Addict
Created by: bzav1
Pronunciation: holiday - bah - kul
Sentence: She was green, red and flashing lights from head to toe - a complete holidaybacle! She knew the true meaning of Xcessmas.
Etymology: holiday + debacle
----------------------------
COMMENTS:
very good - Jabberwocky, 2007-12-03: 16:01:00
----------------------------
Created by: CEE1ESS
Pronunciation: elf-an-atic
Sentence: She was elfanatic about the holidays, decorating everything in sight.
Etymology: based on the words elf and fanatic
Created by: williek1
Pronunciation:
Sentence:
Etymology:
Created by: Mustang
Pronunciation: ob-SESS-uh-brayt
Sentence: Gracielda was so heavily into the holiday spirit she once again showed her need to obsessabrate by decorating everything from her dog, to her car, the refrigerator and even the john in her bathroom, making her friends and family members wonder if she was in touch with reality.
Etymology: Blend of obsession and celebrate
Created by: mweinmann
Pronunciation: or - nah - max - e - men - tal
Sentence: As I drove through the snowy, picturesque streets of my home town, coming back to spend the holidays with the family, I turned the corner and could see my childhood home. My mom had gone all ornamaximental again. Our home cast a halo of light which could be seen over the top of the hill. There must have been 20,000 lights everywhere, inluding trees, bushes, lawn decorations and even figurines on the roof. It was the same way when I was a kid. Our house glowed for Halloween, Thanksgiving, Easter, July 4th and sometimes even Valentine's Day.
Etymology: This word has several other words incorporated. Ornamental has maxi inside of it. Also, ornate and ornament are prefixes. In the middle are max, maximum. Also as a suffix, mental can be added to signify someone who is a bit "over the top". Ornate (elaborately ornamented, often to excess; flashy, flowery or showy) Ornament, Ornamental (a decoration, serving the purpose of decoration or beauty ) + Maximum (the largest possible quantity) + Mental (Mind, the collective aspects of intellect and consciousness, affected by a disorder of the mind)
----------------------------
COMMENTS:
Very nice etymology, especially the mentality of it all. - silveryaspen, 2008-12-09: 11:04:00
Maximental sentimental! Great word - Nosila, 2008-12-09: 23:15:00
----------------------------
Created by: durananrananran
Pronunciation: tin-sul-fit-ter
Sentence: Molly is such a tinselfitter, every December she outfits her desk in tinsel and baubles. She tinselfits out the rear window of her car with fairy lights
Etymology: tinsel + fitter
Created by: Bullwinkle
Pronunciation: auto-decko'file
Sentence: Just look at his car; he's an autodecophile
Etymology: