Verboticism: Christmasshysterical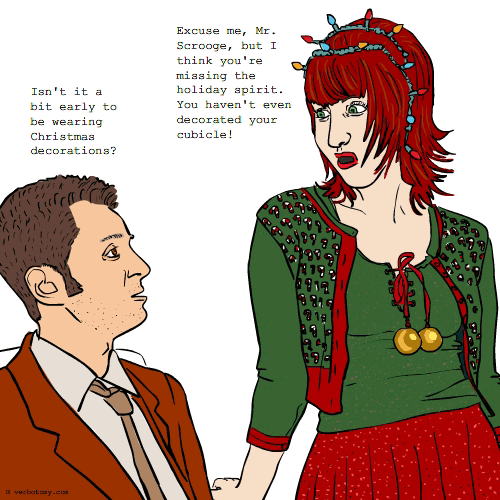 DEFINITION: n., A person so enamored with the holidays that they don't just deck their halls and home, but they also decorate their car, their cubicle, their pets, and themselves. v., To obsessively decorate according to seasonal holidays.
Already Voted
Vote not counted. We have already counted two anonymous votes from your network. If you haven't voted yet, you can login and then we will count your vote.
---
Christmasshysterical
You still have one vote left...
Created by: Jabberwocky
Pronunciation: reeth/flex
Sentence: Once the first snowflake has fallen it is an automatic wreathflex to bedeck and festoon everything within eyesight with garlands and bows and silver bells...ahhh gives me goosebumps. 'deck the halls with boughs of holly, fa la la la la la la la la'
Etymology: wreath + reflex
----------------------------
COMMENTS:
Clever create and Christmas carolling for our delight - silveryaspen, 2008-12-09: 11:08:00
Incredible. - nickmarziani, 2008-12-09: 11:52:00
BRILLIANT!! EASILY ONE OF THE BEST WORDS THIS MONTH!!! - Stevenson0, 2008-12-09: 17:38:00
We are wreathed in smiles... - Nosila, 2008-12-09: 23:19:00
----------------------------
Created by: artr
Pronunciation: tinsəlkloun
Sentence: Gloria is such a tinselclown. She rarely has enough decorations for her Christmas tree because she is wearing most of them starting the day after Thanksgiving. Others call it Black Friday. She calls it Sparkle Friday. You should see her at Easter.
Etymology: tinsel (a form of decoration consisting of thin strips of shiny metal foil) + clown (a comical, silly, playful person) Derivative of Tinseltown (Hollywood, or the superficially glamorous world it represents)
----------------------------
COMMENTS:
Yule (you'll) log in warmth and laughter with this excellent verbotomy - silveryaspen, 2008-12-09: 11:19:00
Very nice - OZZIEBOB, 2008-12-13: 16:11:00
----------------------------
Created by: bluemoon72
Pronunciation:
Sentence: My neighbors are so Christmasshysterical, it's become an all-out light war begining the day after Halloween.
Etymology:
Created by: Mustang
Pronunciation: San + ta + closs + trik + PHOE + bya
Sentence: Mildred's Santaclaustricphobia had become so severe that her family, coworkers and neighbors had come to dread the Christmas season.
Etymology: Santa Claus + phobia
----------------------------
COMMENTS:
well done! - galwaywegian, 2007-12-03: 07:59:00
----------------------------
Created by: silveryaspen
Pronunciation: Bah ball er
Sentence: Miss L Toe, the lady snowman loved Christmas. She had a ball (well actually, she had three very nice ones) buying lots of Christmas balls. She used them for buttons instead of lumps of coal, and even for her eyes and nose. Miss L Toe put them on the trees, hung them from the street lights, car antennas, any where to please. She pinned them on the jackets of all who came to see her, too. She was the greatest bauballer of all
Etymology: BAUBLE, BALL, ALL, ER Bauble - synonym for decoration. Ball - round Christmas ornaments, also means to have fun as in have a ball (and any sexual connotations I leave to your imaginations). All - everthing and everyone as in where she put them. Er - a suffix meaning somebody who performs a particular action.
Created by: karenanne
Pronunciation: DEK o rat
Sentence: Val Egurl was that special form of mallrat, the "Decorat." She obsessively purchased every holiday-themed item that she deemed to be "cute." She could no longer park in her garage because it was stuffed full of boxes, carefully labeled and color-coded for each major and minor holiday. She festooned both her house and herself with decorations for the relevant occasion. She even had lights up on her house year-round. But not just any lights - these were multicolored and synchronized to music, AND both the colors and the music corresponded to the holiday. On the Fourth of July, the lights were red, white, and blue, and the Star-Spangled Banner and other patriotic songs played. On Halloween, the lights were orange and black, and spooky music emanated. Not to mention Christmas - well, you get the idea.
Etymology: decorate + rat
----------------------------
COMMENTS:
deco-rat-ive word! - Nosila, 2009-12-15: 01:13:00
----------------------------
Created by: Stevenson0
Pronunciation: fest/ces/sive
Sentence: Sylvia took the Christmas carol 'Deck the Halls' and its meaning to the extreme, decorating anything and everything. She is completely and totally festcessive about the Christmas season.
Etymology: festive + obcessive + excessive
----------------------------
COMMENTS:
success-ive - Nosila, 2009-12-14: 16:15:00
----------------------------
Created by: OZZIEBOB
Pronunciation: JOO-buh-LAK-ee
Sentence: For Bob, a jubilackey, and, especially, a yulethrall, festinfatuation, with the feriations of the whole world, continued year-long with 365 red-letter days.
Etymology: Blend of JUBILEE: A season of general celebration, holiday and rejoicing & LACKEY: Slave(slang); disciple, follower
----------------------------
COMMENTS:
Good one Bob! - emdeejay, 2008-12-09: 22:22:00
----------------------------
Created by: artr
Pronunciation: eksməskät
Sentence: There might just be elf in Kris*s family tree. She has taken on the role of Xmascot, decorating everything in sight including herself. Starting the day after Thanksgiving, she has an outfit for every day, most involving tinsel and lights. She is devoted to the holiday. Just managing the extension cords is close to a full-time job.
Etymology: Xmas (informal term for Christmas) + mascot (a person or thing that is supposed to bring good luck or that is used to symbolize a particular event or organization)
Created by: williek1
Pronunciation:
Sentence:
Etymology: