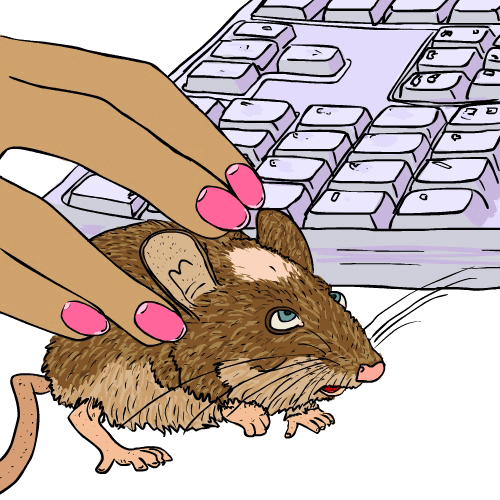 DEFINITION: n., A wear mark, or shiny spot, which appears on a heavily used computer touch-pad, mouse or keyboard. v., To wear down or erode through repetitive clicking, tapping or poking.
Already Voted
Vote not counted. We have already counted two anonymous votes from your network. If you haven't voted yet, you can login and then we will count your vote.
---
Clickeroded
You still have one vote left...
Created by: TJayzz
Pronunciation: Kee-flor-d
Sentence: Susan was a perfectionist so when the keyboard on her computer became marked by overuse, she insisted that the shop where she bought it from gave her a replacement due to it becoming keyflawed.
Etymology: Keyboard(a panal of keys for use with a computer) + Flawed(marked,become spoilt) = Keyflawed
----------------------------
COMMENTS:
nice one - Jabberwocky, 2008-10-17: 11:55:00
----------------------------
Created by: mplsbohemian
Pronunciation:
Sentence:
Etymology:
Created by: remistram
Pronunciation: kuhm-pyoo-buhf
Sentence: She compubuffed her keyboard so bright and shiny that she could almost she her reflection in each key.
Etymology: computer + buff (as in shine)
Created by: garythesnail
Pronunciation: bor-SO-FLY-POORD
Sentence: Felix had many boursoflypords on his keyboard.
Etymology: french 'boursouflure' for blister, + type + keyboard
Created by: astorey
Pronunciation: Cal-us-nik-off
Sentence: Tony's superfast typing not only sounded like rapid gunfire, it also left little callousnickoffs all over her keyboard.
Etymology: Callous (skin made tough and thick through wear) + nick (an impression in a surface) + off, combined to sound like the kalishnikoff gun.
----------------------------
COMMENTS:
Do you believe in the right to arm bears? I do :) - metrohumanx, 2008-10-17: 12:05:00
Very clever, Astorey! - metrohumanx, 2008-10-17: 12:06:00
Shoot! That's a good calibre word! - Nosila, 2008-10-17: 22:30:00
----------------------------
Voted For! | Comments and Points
Created by: artr
Pronunciation: də/ter/e/or/a/shīn
Sentence: Wendel was proud of the deteriorashine on his keyboard. To him, it was a sign of a hard worker. The fact that most of the printed letters on the keys were almost rubbed off equated to the many hours he spent clacking away. As he ran his hand over the top of his head, he beamed at the thought that heavy-duty use of his brain could also cause deteriorashine.
Etymology: deterioration (become progressively worse) + Shine (reflect light because clean or polished)
----------------------------
COMMENTS:
great! - Jabberwocky, 2008-10-17: 11:53:00
----------------------------
Created by: mvandyke
Pronunciation: hyper-mouse-er-ation
Sentence: One could easily see the tell tale signs of 'hypermouseration' in Kathies work station.
Etymology:
Created by: nerdkiller
Pronunciation: point-o-pee-zia
Sentence: Sam scrolled through the entire Boingboing archive until his pointer had mouse pattern pointopecia.
Etymology: alopecia (baldness, pointer (pointing device)
Created by: xirtam
Pronunciation: ri-kur-skohr
Sentence: The mouse attached to that old PC was used so much that there was a recurscore on the left button. It was the exact shape of my finger tip.
Etymology: Recur: Latin recurrere - to occur again + Score: Middle English scoren - to make notches, cuts, marks, or lines in or on.
Created by: bzav1
Pronunciation: geek + polish
Sentence: Judging by the geekpolish on Jimmy's laptop, he had been spending a bit too much time on Facebook.
Etymology: Not to be confused with my Eastern European roots (geek Polish)