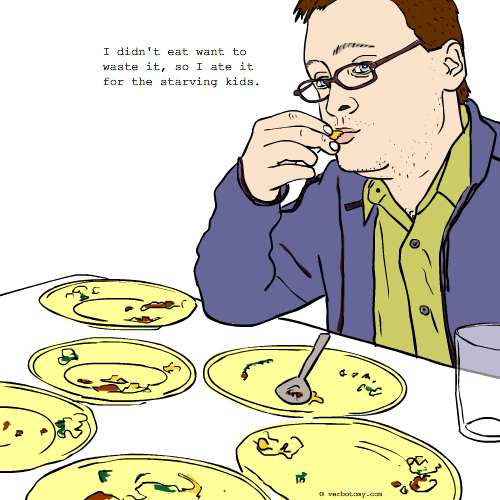 DEFINITION: v., To finish your plate and eat all the food in front of you, even when not hungry. n., Compulsive over-consumption of food in order to relieve guilt.
Already Voted
Vote not counted. We have already counted two anonymous votes from your network. If you haven't voted yet, you can login and then we will count your vote.
---
Blananane
You still have one vote left...
Created by: systemax57
Pronunciation:
Sentence:
Etymology:
Created by: milorush
Pronunciation: (tr. v.) krām-mĭz'-ə-rāt'; (n.) krām-mĭz'-ə-rāt'-ər
Sentence: Even though I had eaten dinner, we ordered three pizzas and I crammiserated with Jackie's loss of her cat.
Etymology: cram = (to overfeed) + [com]miserate = (to feel or express sorrow or sympathy for)
Created by: rikboyee
Pronunciation: fill-up-thrah-pee
Sentence: his expanding waistline was a testament to his philupthropic ways
Etymology: fill up, philanthropy
----------------------------
COMMENTS:
so clever!! - libertybelle, 2007-10-12: 10:30:00
Love it. - aayeye, 2007-10-14: 17:42:00
Excellent! - OZZIEBOB, 2007-10-14: 19:15:00
Wow! I was thinking along those lines:) - FayeWord, 2007-10-17: 23:02:00
----------------------------
Created by: Roosje
Pronunciation:
Sentence: While the platepleaser felt very satisfied about finishing his six course dinner, the homeless men outside was hungry because the garbage can had nothing to offer today.
Etymology: Plate = food Pleaser = to please
Voted For! | Comments and Points
Created by: Mustang
Pronunciation: n. e-yew-roe-nate
Sentence:
Etymology:
Created by: libertybelle
Pronunciation: E-the-oh-pig-out
Sentence: Darlene mindlessly began to mindlessly Ethiopig-out on the left over goulash after the dinner discussion turned to the starving children of Namibia.
Etymology: Ethiopia - a third world country reknown as a shoot location for "Save the children" infomercial shoots + Pig-out- to gorge oneself on food in the manner as would a pig.
Created by: petaj
Pronunciation: seafood-diet
Sentence: Wally wasn't called Wally because his name was Wallace, it was because he resembled a Walrus due to his seefoodiet.
Etymology: An oldy but a goody. I'm on a diet. Oh really, what kind? A seafood diet. I see food and eat it.
Created by: dogran
Pronunciation: afr-ee-tin
Sentence: What on earth is that man doing licking that woman's plate? Its very unfortunate but after he visited africa he has come over all afreatin and such
Etymology: Eating for Africa
Created by: purpleartichokes
Pronunciation: skrap-chur
Sentence: He knew he should have stopped after consuming the entire chicken breast, but seeing the crispy skin lying tantalizingly before him, he got caught up in the scrapture.
Etymology: scrap, rapture
----------------------------
COMMENTS:
Holy Scrapture Batman! - Scrumpy, 2007-10-12: 10:00:00
Awesom - skunkchunk, 2007-10-13: 17:13:00
e - skunkchunk, 2007-10-13: 17:13:00
Great word - OZZIEBOB, 2007-10-14: 18:59:00
----------------------------
Created by: Osomatic
Pronunciation: terr + ih + bleat
Sentence: Look, those poor kids are starving, so the least I can do is terrobleat this food...for them.
Etymology: terrible + eat + guilt, of course