Verboticism: Malfeastance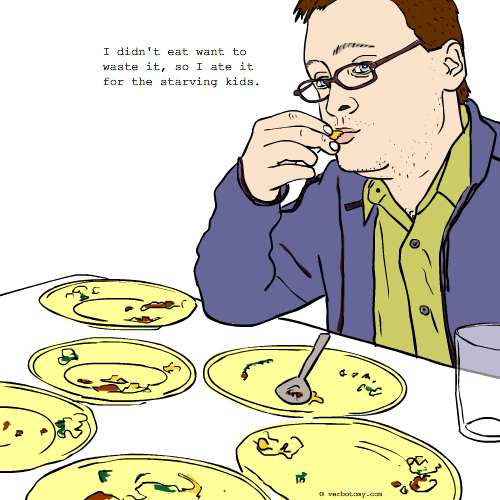 DEFINITION: v., To finish your plate and eat all the food in front of you, even when not hungry. n., Compulsive over-consumption of food in order to relieve guilt.
Voted For: Malfeastance
Successfully added your vote For "Malfeastance".
Thanks for voting! You have now used both of your votes today.
Created by: Jabberwocky
Pronunciation: gulp/a/bill/i/tee
Sentence: Dave's gulpability was uncontested. He felt he had to finish every last drop of food or drink so that it would not go to waste - unfortunately it went to waist.
Etymology: culpability + gulp
----------------------------
COMMENTS:
Big Gulpability an new 7-Eleven drink! - Scrumpy, 2007-10-12: 09:55:00
Very good word blend with wider application. - OZZIEBOB, 2007-10-14: 19:10:00
----------------------------
Voted For! | Comments and Points
Created by: Stevenson0
Pronunciation: gawr/man/i/tair/ee/uhn
Sentence: Joe, the ultimate gormanitarian, was quoted as saying, " I ate six helpings of everything for all the starving children in the world. God bless them and pass the leftover ham and potatoes."
Etymology: GORMANITARIAN - noun - from GORMANDIZE (to eat greedily, or ravenously) + HUMANITARIAN (having concern for and helping to improve the welfare and happiness of people)
----------------------------
COMMENTS:
Great word! - vmalcolm, 2008-09-12: 07:37:00
----------------------------
Created by: aigle101
Pronunciation: glut-ton -o -rist
Sentence: Did you see this guy ,he's a real gluttonorist ,he can't help himself
Etymology: glutton: eats for emotional reason rist: describes the person
Created by: metrohumanx
Pronunciation: WHO-vuhr-eyes
Sentence: Timmy The Beard returned from his sojourn in the deep woods and proceeded to HOOVERIZE every edible morsel placed before him.
Etymology: HOOVER-a popular brand of vacuum cleaner + suffix "IZE" = HOOVERIZE.
----------------------------
COMMENTS:
I just came in at number twenty-five-I'm oh so happy and so glad to be alive. Everybody says i'm gonna get to the top....Life is so easy when your record's hot ! - metrohumanx, 2008-09-12: 15:28:00
Amazing. I zoomed up to #59 in like. 30 minutes.Go figure :) - metrohumanx, 2008-09-12: 16:24:00
As long as he doesn't like to J.Edgar Hooverize...or as they sing in Monty Python's Lumberjack Song..."I cuts down trees, I wears high heels, suspenders and a bra, I wants to be a lady, just like my old Papa!: - Nosila, 2008-09-12: 22:33:00
Timmy the Beard. I think I dated him. :) - lumina, 2008-09-12: 22:49:00
----------------------------
Created by: skunkchunk
Pronunciation: Stuff-in-ate
Sentence: Lard looked lovingly at all the food left on his plate, and though bloated and satiated, he couldn't resist the urge to stuffinate himself!
Etymology: gorge, stuff oneself to the brim
----------------------------
COMMENTS:
Stuff + suffocate :) Great! - FayeWord, 2007-10-17: 23:04:00
----------------------------
Created by: destrict
Pronunciation: kon-soom-eyes
Sentence: Luckly, Joe didn't consumize the whole dinner table.
Etymology:
Created by: Boomertoo
Pronunciation:
Sentence: Her gourmanthropy did not appear to give her any solace.
Etymology:
Created by: Osomatic
Pronunciation: terr + ih + bleat
Sentence: Look, those poor kids are starving, so the least I can do is terrobleat this food...for them.
Etymology: terrible + eat + guilt, of course
Created by: vmalcolm
Pronunciation: /fu:dənɪzəm/
Sentence: "Brothers and Sisters, this is a proposal for you to stop feeling that guilt when a piece of chicken has been left on the plate and you have no freezer... Convert to Foodanism, feel the spirituality of an empty plate..." "By foodanizing everything you'll feel the relief... the calm... Eat! Consume!"
Etymology: FOODANISM. From Food (A specified kind of nourishment) + ISM (suff. Doctrine; theory; system of principles)
Created by: OZZIEBOB
Pronunciation: Fan-gwish
Sentence: Bob had a nutribent: he always had to chowhole every last crumb from his plate. Was it bingetwinge, culpident or fangpang that consumed him or ayenbite of inwit that drove him? No-one really knew, but some suggested that he was merely a peckadent shamnivore with glut-instinct. But, although, and perhaps, it was just fanguish!
Etymology: Fanguish:fang-tooth & to eat & anguish. Chowhole: blend of chow,whole & hole. Nutriment:food & bent(inclination.)'Ayenbite of Inwit'(Remorse of Conscience)-Kentish work of M English. Peckadent(peck & decadent.)Shamnivore:feigned eater.
----------------------------
COMMENTS:
you could add vanquish to your etymology - Jabberwocky, 2007-10-12: 09:26:00
Over the Top! Excellent! - Scrumpy, 2007-10-12: 09:58:00
Cute - MrDave2176, 2007-10-12: 16:31:00
----------------------------