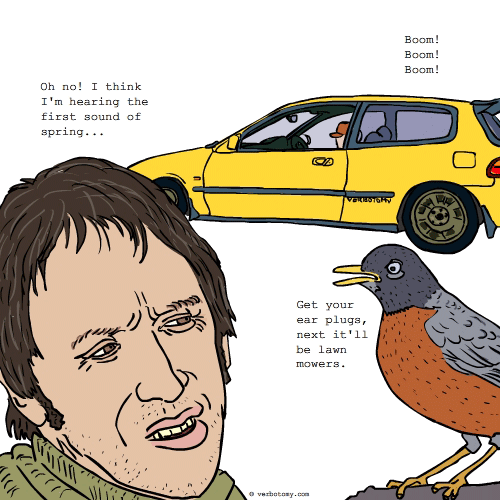 DEFINITION: v. To drive around in your car with the widows down and stereo blaring. n. The sounds emanating from the suped-up vehicles driven by strutting human males as they participate their annual spring mating rituals.
Already Voted
Vote not counted. We have already counted two anonymous votes from your network. If you haven't voted yet, you can login and then we will count your vote.
---
Phalloom
Pronunciation: fal loom
Sentence: The annual spring mating ritual of the young male human starts as soon as the snow melts. Many a souped up vehicle, usually bright and shiny in colour with loads of added on parts and noises starts the migratory prowl. Up and down beach fronts, main drags and in front of malls, fast food places and other areas where the female of the species may congregate. The phalloom of this annual display of muscle can be heard each day and night for several weeks until school goes back in September.
Etymology: Phallic (relating to a phallus especially as an embodiment of generative power;the male organ of copulation) & Voom (sound a car motor makes when revving up)
Points: 710