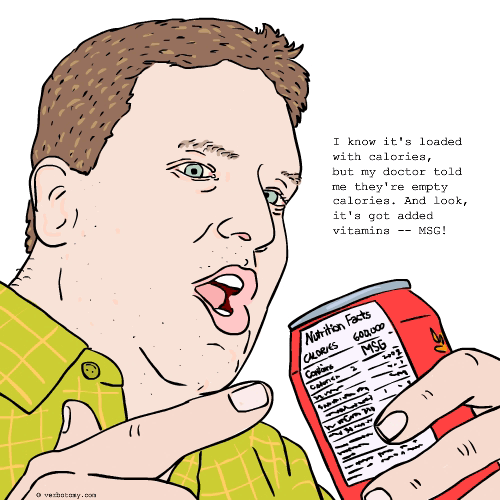 DEFINITION: n. Any highly-processed food or beverage in which the natural ingredients have been removed and replaced with artificial flavors and additives. v. To consume food products laced with synthetic sweeteners, imitation flavors, and other carcinogens.
Voted For: Badditive
Successfully added your vote for "Badditive".
Pronunciation: bad dit tiv
Sentence: One day when Chad was told by his doctor to watch what he consumed, he started reading the labels. He was amazed to see all the badditives placed in his food and drink. Latin-sounding, unpronounceable names, sinister sounding words and all the ingrediants were at least 15 letters long. Every badditive was making the Chadditive both sadditive and madditive!
Etymology: Bad (that which is below standard or expectations as of ethics or decency; capable of harming;reproduced fraudulently) & Additive (something added to enhance food)
Points: 830
Voted For!