Vote for the best verboticism.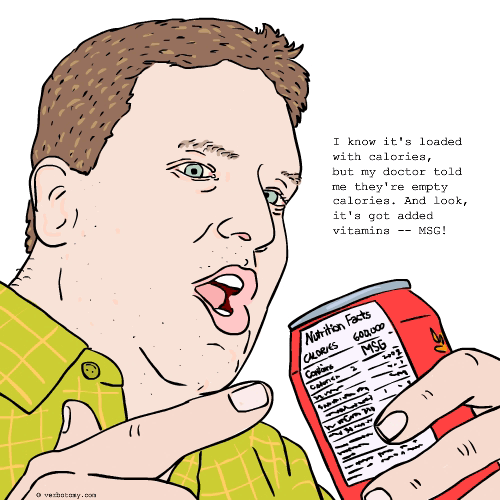 DEFINITION: n. Any highly-processed food or beverage in which the natural ingredients have been removed and replaced with artificial flavors and additives. v. To consume food products laced with synthetic sweeteners, imitation flavors, and other carcinogens.
Verboticisms
Click on each verboticism to read the sentences created by the Verbotomy writers, and to see your voting options...
You have two votes. Click on the words to read the details, then vote your favorite.
Created by: metrohumanx
Pronunciation: PICK-one-TOCKS-ih-fodder
Sentence: Chuck planted his corpulent posterior in the orange naugahide chair and settled down to his first day at the new job. Thankful to be employed, he relished his new assignment at Universal Test Kitchens...sampling and rating new food products before they were foisted upon the unsuspecting public.Being a true foodlum, he had quaffed, chomped, swigged and munched through an array of buyprodux, each containing an ersatz nutritute carefully engineered from corn syrup and cheap tropical fat. Some dishes were trendylicious and pungent, others had all the appeal of a used bovine salt lick. It wasn't until the late afternoon when Chuck found his favorite concoction. It was real PIQUANTOXIFODDER - stripped of any wasteful vitamins, yet replete with satisfying textures that reminded him of that strangest of foods- tapioca. After secretly cramming down his third helping, Chuck succumbed to a case of megacramps that a gallon of peptodismall wouldn't cure. On the way home, he had to pull over discreetly near an irrigation ditch and make a contribution.Plop Plop Fizz Fizz. Sweating like a cut of rancid pork, Chuck knew that the product he ingested was sure to be a great seller. It was....ambrosia!
Etymology: PIQUANt+TOXIc+FODDER=PIQUANTOXIFODDER.....PIQUANT:agreeably stimulating to the palate,engagingly provocative taste;Middle French, from present participle of piquer.....TOXIC:containing or being poisonous material especially when capable of causing death or serious debilitation,extremely harsh, malicious, or harmful;Late Latin toxicus, from Latin toxicum poison, from Greek toxikon arrow poison, from neuter of toxikos of a bow, from toxon bow, arrow.....FODDER:something fed to domestic animals ; especially : coarse food for cattle, horses, or sheep,-inferior or readily available material used to supply a heavy demand;Middle English, from Old English fōdor; akin to Old High German fuotar food.....AMBROSIA:the food of the Greek and Roman gods;Latin, from Greek, literally, immortality, from ambrotos immortal.(bonus word)
----------------------------
COMMENTS:
Amusing OLD advertisements: http://www.lileks.com/oldads/index.html - metrohumanx, 2009-01-29: 01:56:00
This space intentionally left blank. - metrohumanx, 2009-01-29: 21:27:00
----------------------------
Created by: mweinmann
Pronunciation: Ring - kee - dreenk
Sentence: Norton exclaimed, "What kinda rinkydrink is this?!!!!" It is full of Sweententame, Carcinocolor 30, Noxphoric Acid, Nomassium Renzoate, Nomassium Bitrate, Baselcellame Nomassium and.... its loaded with Daffeine to boot!!
Etymology: Rinky Dink + Drink >>> Rinky Dink(Of poor or inferior quality; hokey; sloppy; chintzy; small; flimsy; inadequate) >> Drink (consumable beverage).
----------------------------
COMMENTS:
Easy to remember, quick to come to mind ... will use it a lot! - silveryaspen, 2009-01-29: 08:37:00
----------------------------
Created by: leeannhamers
Pronunciation: Ka-Al-dree-eth
Sentence: My mom told me not to have soda its one of those Caldrieath foods.
Etymology: Calories, Drinks, Death
Created by: readerwriter
Pronunciation: mis-treet-z
Sentence: Esau, who always chose the quick and easy way to get his food, grew fat in the land on his convenient die-et of mystreats.When he suddently departed this life from cardiac arest, his secondary cause of death was listed as "mystreatment." Full stop.
Etymology: From MYSTERY, things unexplainable + TREATS, small pleasures; also playing on MISTREAT, to misuse, abuse
Created by: petaj
Pronunciation: rice - boo - buls
Sentence: When it comes to a bit of flavour instead of nutrition there's nothing like a bowl of cornfakes and riceboobles.
Etymology: rice bubbles + boob (mistake)
Created by: Nosila
Pronunciation: bad it tiv
Sentence: Sidney ate processed foods everyday and was concerned that they had all had a badditive component to them. His first clue should have been in some of their brand names:E-Cola, Tinned Salmon Ella and Canned Ptomainetoes...
Etymology: Bad (not good, not safe nor edible) & Additive (something added to enhance food or gasoline or paint or medicine)
Created by: Mustang
Pronunciation: noo-treh-de-FISH-unt
Sentence: Cameron was in complete denial about the 'power drink' he consumed daily, thinking it was packed with added vitamins, minerals and nutriments but it was in fact, totally nutrideficient.
Etymology: Blend of nutrition and deficient
----------------------------
COMMENTS:
One summer I ran into a deli to get a Yoo-Hoo and was amazed by the daunting display of "sports drinks" and other things of dubious origins. - metrohumanx, 2009-01-29: 01:41:00
Excellent word! - silveryaspen, 2009-01-29: 08:39:00
----------------------------
Created by: splendiction
Pronunciation: junkfeed
Sentence: Jim began junkfeeding as a child. As a young adult he consumed his favourite, seriously overprocessed, junkfeed in quantities disproportionate to his energy needs so that he became unhealthy. His doctors warned him to avoid the common, easy to reach, junkfeed and return to a simpler diet rich in real food. Jim learned what real food is but unfortunately couldn't find real foods around him...
Etymology: junkfeed v and n. from junk or useless stuff/what has no purpose and the verb feed, for an organism's tendency to eat for necessity and not the enjoyment of food
Created by: TJayzz
Pronunciation: Al-a-cart-i-fish-ull
Sentence: Tom always used the alacartifcial way of dining, he would gorge on anything that included MSG or had been synthetically altered in some way. Being only twenty-one he didn't think of what this might be doing to the state of his health a few years down the line.
Etymology: A la carte(a type of menu) + Artificial(contrived or affected) = Alacartificial
----------------------------
COMMENTS:
well-crafted word - silveryaspen, 2009-01-29: 08:34:00
----------------------------
Created by: GlobalGallery
Pronunciation: korn - fayks
Sentence: Willie was up at dawn to log on as his Dwarf Troll avatar in the online world of Demon-Realm. He had no real friends so he immersed himself in an artificial reality as often as he could. He liked a bowl of Cornfakes in the morning. The flavour burst of acesulfame-K and the crunchy goodness of butylated hydroxytoluene gave him the energy for hours of unbridled slaying.
Etymology: 1.cornflakes - a popular cereal made by Kellogs 2.fakes - goods that are not genuine.
----------------------------
COMMENTS:
very tasty! - galwaywegian, 2009-01-29: 06:46:00
I saw the Cornfakes beside the Raisin Banned Flakes, Mice Krispies and Loco Puffs at Safeway! - Nosila, 2009-01-29: 19:50:00
----------------------------