Verboticism: Aggramorfickleogre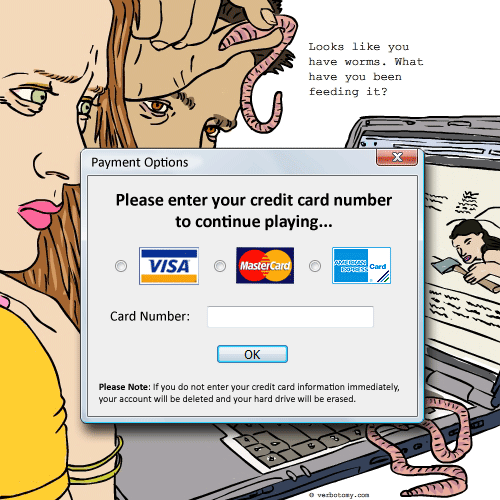 DEFINITION: n. A self-deprecating computer virus which is constantly changing its identity due to problems with its logic and/or self-confidence. v. To randomly change your tune, just so you can bug other people.
Voted For: Aggramorfickleogre
Successfully added your vote for "Aggramorfickleogre".
Pronunciation: AGG-ruh-MORE-fickle-OH-grrr!
Sentence: Anne loved her lappytop more than her kin.. She turned them away, but let viruses in. Clicking became just a cruel misdirection- Lappy acquired a logic infection… Slowing it down until barely alive- Mocking and shocking her internal drive… What was the name of this horrible joker? It was an AGGRAMORFICKLEOGRE !!!
Etymology: AGGRAvate+MORph+FICKLE+OGRE= AGGRAMORFICKLEOGRE.....AGGRAVATE:intensify unpleasantly, to make worse, more serious, or more severe, burden; Latin aggravatus, past participle of aggravare to make heavier, from ad- + gravare to burden, from gravis heavy.....MORPH: To change from one form to another, a local population of a species that consists of interbreeding organisms; back-formation from morpheme.....FICKLE: given to erratic changeableness, marked by lack of constancy or stability; Middle English fikel deceitful, inconstant, from Old English ficol deceitful; akin to Old English befician to deceive, and probably to Old English fāh hostile.....OGRE: a dreaded person or object, a hideous giant of fairy tales and folklore that feeds on human beings and computers, a monster; French, probably ultimately from Latin Orcus, god of the underworld.
Points: 1145
Voted For!