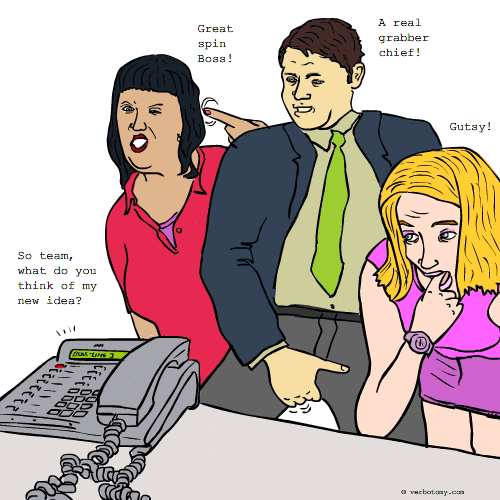 DEFINITION: n., An expressive gesture made with the belief that the person it is directed at cannot see it, typically occurs during telephone conversations, email discourses, and behind people's backs. v. To use an unseen gesture to express what you cannot say.
Voted For: Asnide
Successfully added your vote for "Asnide".
Pronunciation: /uh-sniyd'/
Sentence: For once, during the staff meeting, Mr. Leeds was calling in from a remote office, and the staff, normally daunted by his blustery manner, each expressed their true feelings in an asnide directed at the speakerphone, while maintaining their usual, timid responses.
Etymology: aside - actor's lines not heard by others on the stage (Old English, a- + sīd "to one side") + snide - derogatory in a nasty, insinuating manner (Origin unknown, from thieves' slang for "counterfeit or sham")
Points: 563
Voted For!