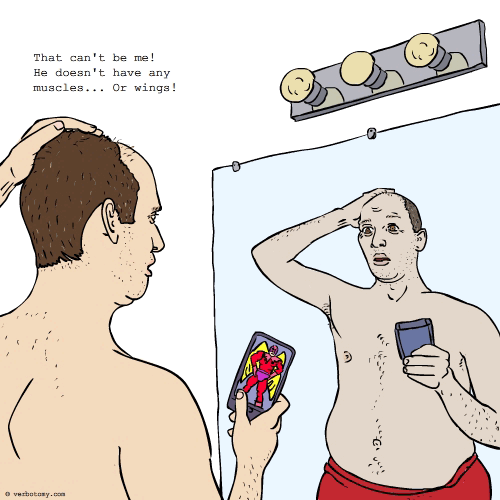 DEFINITION: n. A person who is so enamored with their online identity that they believe that it is more real than their physical one. v. To suddenly realize that you are large, blubbery mammal with no useful superpowers.
Eegotist
Top verboticism of the day created by petaj
Pronunciation: ee-go-tist
Sentence: Nerdia was sometimes caught muttering in the lift. She hated catching site of herself in the mirrored walls as it threatened her eegotism, when she saw just how ordinary she looked, in comparison to her online persona.
Etymology: e (prefix commonly used for anything to do with the internet - electronic) + egotist (one who thinks they are darn cool)
Created by: petaj.
Comments:
agree with the use of "e". eexcellent eword! - splendiction, 2009-05-15: 23:22:00
More Top Verboticisms:
(Invented words created by the Verbotomy Writers)
Cyberborg: /SIE-ber-borg/ Alvin had lost all sense of reality and had become a cyberborg whose identity and very existence had come to depend on his on line persona, a grandiose creation totally unlike the real man. Etymology: Shamelessly based on 'cyborg', (a person whose physiological functioning is aided by or dependent upon a mechanical or electronic device) Created by: Mustang.
Flubbaghast: /Flubb-err-gast/ Andrew staggered into the bathroom after thrashing that ugly Gnorm with his sixth-level paladin and was horrified to find a big bald fat man staring at him. "What the?" he gasped, his heart racing. The man gasped too and Andrew was suddenly flubbaghast to realise that man was himself. His fitted leathers and taught biceps were gone, as were his flowing mane of black hair, his majik sword and that 'strange aura of mystique' bestowed on him by the beautiful Sorceress of Tarneg. Before him stood a pasty white balding man in his thirties, obviously carrying more than twice the weight of his avatar and Andrew's wishteria simply could not reconcile the two. He gave in to his superfaction and switched the light off. Shadow-daemons beware! Andion the Brave is here and he's not happy.. Etymology: Flubber - blubbery, flubbery wobbly-ness; Also Flubber - confuse, fluster. Flub - make mistake or error; Aghast - horrified, shocked and appalled. As in being aghast on finding one's flubberiness and the flub of having missed it due to De Nial (and not de river). Also - Superfaction (Super + stupefaction) and Wishteria (Wish + hysteria) Created by: dochanne.
Comments:
Andrew was parIRLysed...Sorry! - dochanne, 2009-05-15: 04:13:00
good one - Jabberwocky, 2009-05-15: 10:29:00
Hate those trick mirrors! - Nosila, 2009-05-15: 17:48:00
Think I forgot to mention the obvious starting point of Flabbergast :) - dochanne, 2009-05-17: 23:39:00
Icononsense: /īkänänsens/ On the internet Thomas is a secret agent. His avatar looks a lot like James Bond. His proclivity for getting in and out of international trouble is well known. His real world friends know that this is icononsense. He is really a balding, pudgy accountant who's biggest daily dilemma is deciding what flavor of instant oatmeal to have for breakfast. Etymology: icon (a symbol or graphic representation on a video display terminal) + nonsense (foolish or unacceptable behavior) Created by: artr.
More...
To see more verboticisms for this definition go to: That can't be me. He doesn't have any muscles...
More Winning Words:
More Verboticisms! See the winning words for: I wonder who keeps leaving these empties in the fridge