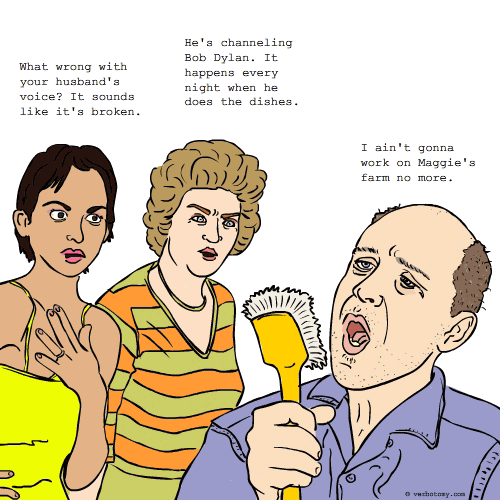 DEFINITION: n. A person who adopts the stylings, mannerisms and even of the personality of their favorite rock, movie or television star. v. To derive your identity from someone else, especially a famous person.
Micarious
Top verboticism of the day created by emdeejay
Pronunciation: mike airy us
Sentence: "When the Jester sang for the King and Queen in a coat he borrowed from James Dean" he was probably not being micarious, but my attempts to channel Don certainly are. Alas, they're almost bad enough to deserve an (American) Pie in my face...
Etymology: Mic(rophone): used to amplify the voices of performers, both good and bad. Vicarious: To take the place of or imitate another, to feel what's it's like to be them.
Created by: emdeejay.
Comments:
Dressing up for the part made him microbial as well? - Mustang, 2009-05-06: 06:33:00
:-) I just love all the Dylan references in American Pie ... - emdeejay, 2009-05-06: 23:08:00
More Top Verboticisms:
(Invented words created by the Verbotomy Writers)
Mimickjagger: /mi-mik-jag-ur/ His love for the greatest rock band in the world was reason enough to mimickjagger. Etymology: mimic + Mick Jagger Created by: bookowl.
Emutate: /em-u-tate/ Randy loved to do Elvis so much that he emutated one night after supper. He quit his job at Maggies farm, dyed his hair black, and spent the rest of his days in Vegas wearing a white rhinestone suit, sunglasses and eating fried peanut butter sandwiches. After he was found face down in his shag carpet at Spaceland, his tombsone was engraved with the words, "Thank you, thank you very much." Etymology: emulate: strive to be equal or better by reproducing someone's mannerisms and/or looks + mutate: become different in essence, lose one's identity Created by: mrskellyscl.
Comments:
Quite clever...Webster material! - jasjamson, 2009-05-08: 02:03:00
Celeffigy: /Sell-effigy/ Michaela couldn't help herself, her identimitation was complete and when she stepped out she was a fabulous and flirtatious Marylin staricature, all blonde curls and buxom bosom. Her idolity extended to feigning an isolating fame but her reputation was cast as the most extravagant and talented celeffigy in town. Etymology: Celebrity - a person known throughout the world for something other than their talent; Effigy - copy or representation, usually of a famous, infamous or otherwise "known" personage. Created by: dochanne.
Comments:
With identimitation as Identity and Imitation and reminiscent of identification as why people admire their idols. Staricature - Star and caricature, obvious really, and idolity as Idol and Identity blended because that's what she does.. - dochanne, 2009-05-06: 03:17:00
Iconic :-) - emdeejay, 2009-05-06: 03:23:00
nice - Jabberwocky, 2009-05-06: 13:23:00
More...
To see more verboticisms for this definition go to: What's wrong with your husband's voice?
More Winning Words:
More Verboticisms! See the winning words for: The pants are blowing in the wind