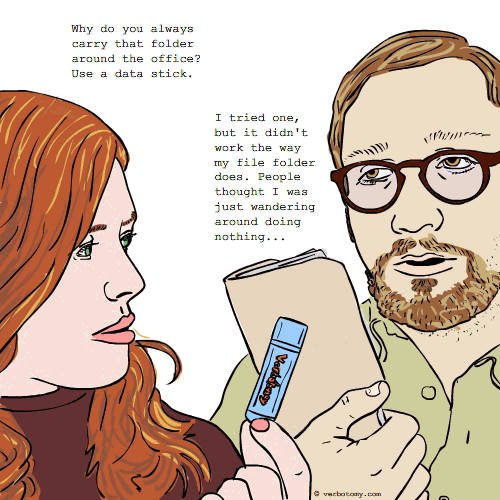 DEFINITION: n. A prop (e.g. papers, files or any non-functional equipment) used to create the illusion of busyness. v. To use office supplies to create the illusion that you are working.
Portfonio
Top verboticism of the day created by mweinmann
Pronunciation: port - pfon - eeeooo
Sentence: Robert held tight to his large portfonio as he passed his manager's office. He really had nothing to do but he nicely played the part of a person who had millions of things to do and people to see.
Etymology: Portfolio - A collection of papers and accomplishment and another word for notebook. + phony (not real).
Created by: mweinmann.
More Top Verboticisms:
(Invented words created by the Verbotomy Writers)
Maloprop: /mal-o-prop/ Eric is so retro, Petra thought. Everytime she saw him cross the office floor on his way from the men's room to his desk, she had to laugh. Oh yeah, he just had to carry those maloprops to show everyone he knew what it was like in the 20th century. It was ludicrous. And, then if you said something, he had such excuses...like he didn't understand there were better ways of doing things. Etymology: From mal, Latin/Romance languages, for bad or sick + prop for a property used for show. Also a play on the word malapropism, the ludicrous misuse of a word. In this case, the ludicrous misuse of a prop. Created by: readerwriter.
Excellusion: /ex-sell-usion/ You might think Bob is working hard on his spreadsheets. But they're not real. It's an excellusion. Etymology: Excel (data spread sheets) + illusion (a false impression of reality) Created by: CharlieB.
Officade: /aw-fuh-sahd/ Stanley likes to make everybody think he is the most productive member of his team. He creates a smokescreen by creating an officade of papers and folders that practically obscure his window and keep prying eyes from seeing how little actual work he does. Etymology: office (a room, set of rooms, or building where the business of a commercial or industrial organization or of a professional person is conducted) + facade (a superficial appearance or illusion of something) Created by: artr.
More...
To see more verboticisms for this definition go to: Why do you always carry that file folder?
More Winning Words:
More Verboticisms! See the winning words for: When I said that you're a loser, I meant it as a compliment.