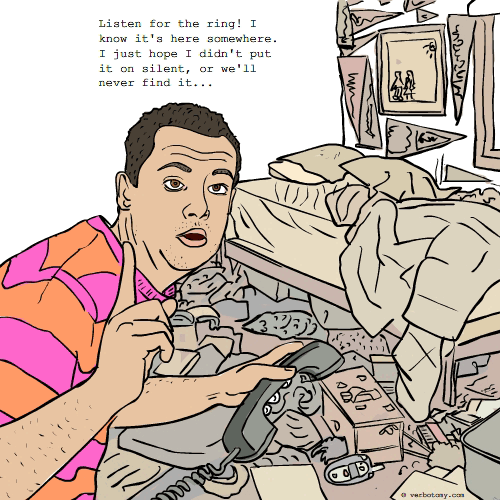 DEFINITION: v., To call your cellphone when you have misplaced it, hoping that it will ring so that you can locate it. n., The sound of a lost cellphone.
Echocellucation
Top verboticism of the day created by zxvasdf
Pronunciation: Ech o cel lu ca tion
Sentence: It was by means of echocellucation that he found the telephone his angry girlfriend had thrown in in the field.
Etymology: Echolocation (means of determining an object's location by reflected sound) & cellular (zombie inducin' portable phone)
Created by: zxvasdf.
Comments:
great word and great etymology - Jabberwocky, 2008-10-08: 10:11:00
More Top Verboticisms:
(Invented words created by the Verbotomy Writers)
Eurekaring: /yur-reek-a-ring/ Sam had searched everywhere he could think of for his cellphone without success. There was only one thing left to do, the age old method of eurekaring. He picked up the receiver on his home phone and dialled the number, then strained to listen out for familiar tone of 'wake me up before you go go'(don't ask) and sure enough, albeit very muffled he could hear it coming from down the back of the sofa. Etymology: Eureka(cry of joy when one finds or discovers something) ORIGIN Greek heureka ' I have found it' said to have been uttered by Archimedes around 2oobc + Ring (to use a phone) = Eurekaring Created by: TJayzz.
Comments:
terrific word! - Jabberwocky, 2008-10-08: 10:11:00
Nice ring about it. - OZZIEBOB, 2008-10-09: 17:02:00
Blackdingleberry: /Black-DING-gull-bare-ree/ Ricky had to blackdingleberry his smartphone for 15 minutes before he finally found it in his pants pocket, in the laundry bin, in the basement, just before Hildegarde dropped it into the washing machine. Etymology: Black: as in 'black hole' + Blackberry: a popular cell phone organizer gizmo + Ding: a vague and unspecific ringtone + Dingleberry: what you feel like when you can't find your cell phone. Created by: Kyoti.
Lostone: /-lɔ:stəʊn-/ Shh, shh, please, allow me to lostone my cell... Try to locate its lostone, can you hear it? Etymology: LOSTONE. From Lost (No longer in the possession, care, or control of someone or something) + Ringtone (A ringtone or ring tone is the sound made by a telephone to indicate an incoming call) Created by: vmalcolm.
More...
To see more verboticisms for this definition go to: Listen for the ring!
More Winning Words:
More Verboticisms! See the winning words for: They don't make video games the way they used to...