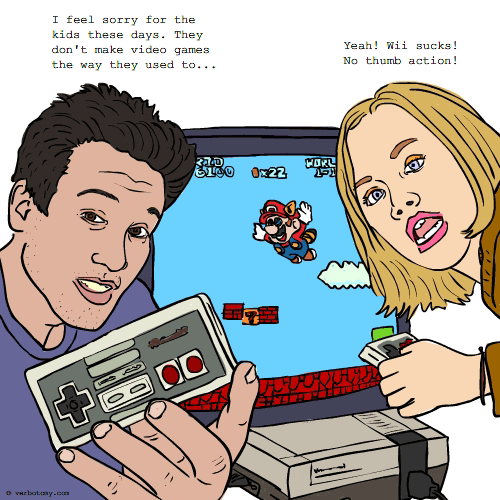 DEFINITION: n., A belief that the contraptions of yesteryear are superior, in almost every way, to modern, present-day technology. v., To wish that the today's technology was just as good as it was in the past.
Retrogret
Top verboticism of the day created by zxvasdf
Pronunciation: ret ro gret
Sentence: With deep, shoulder shuddering retrogret 26 year old Sam exemplified on the various qualities that made a 90s console a much better play but he knew it was too far gone for these kids with their newfangled gadgets.
Etymology: Retro (reminiscent of the past) & regret (sense of loss and longing for someone or something gone)
Created by: zxvasdf.
Comments:
simple but right on the mark - Jabberwocky, 2008-10-07: 14:02:00
terrific - OZZIEBOB, 2008-10-08: 01:18:00
More Top Verboticisms:
(Invented words created by the Verbotomy Writers)
Atarism: // You'd better leave out this atarism and buy the xbox kinect stuff... Etymology: Created by: retoricaljoe.
Ponger: /pon-ger/ Watching people play Wii at Best Buy sent him into a nostalgic moment and he began to ponger how amaaaaaaazing Pong and IntelliVision were and STILL are, but the sales person had no idea what he was talking about when he asked what isle these games were in. Etymology: PONGER - verb - from PONG (the original video game from the 1980's) + PONDER (To reflect, or consider with thoroughness and care; TO REFLECT) Created by: Stevenson0.
Ataritis: /Atari+ itis/ The couple knew they could never spawn any offspring due to their overwhelming Ataritis. Etymology: Atari-Best Video Game System Ever Itis- when you have some crazy thing goin on.. Created by: idavecook.
More...
To see more verboticisms for this definition go to: They don't make video games the way they used to...
More Winning Words:
More Verboticisms! See the winning words for: How many trees did you kill to print that?