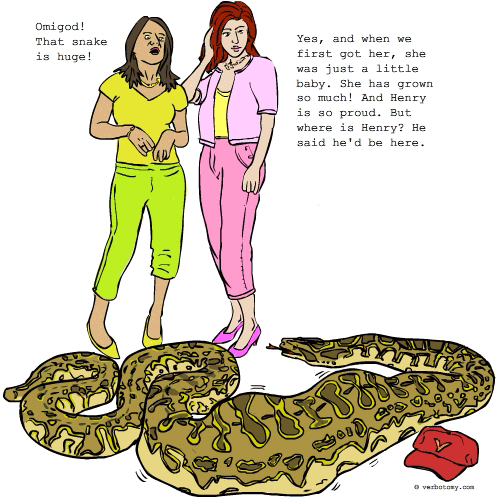 DEFINITION: v. To "adopt" a cute, baby, wild animal as a pet, which then grows up to become a very large, very wild, and very dangerous predator. n. A person who treats wild animals like pets, only to discover that they are not.
Aspouse
Top verboticism of the day created by Nosila
Pronunciation: as powz
Sentence: When Tina found the tiny snake, she called her Cleo and decided to aspouse her as one of the family. Over the years Cleo grew and grew until she became massive and spent her days and nights hunting around the house. Tina was unaware that Cleo had become smitten with her husband Henry. One day, Tina could not find Henry. She reported him missing and it was not until the police arrived, that they noticed the Henry-shaped bulge inside the snake. "What did your husband do for a living?", asked the policeman. "Why he was an accountant." Tina declared. "Well no wonder Cleo took a fancy to him" said the cop, "he was an adder!"
Etymology: Asp (a variety of viper;cobra used by the Pharaohs as a symbol of their power over life and death)& Espouse (to adopt as one's own;to give your support to something;to wed)
Created by: Nosila.
More Top Verboticisms:
(Invented words created by the Verbotomy Writers)
Adderation: /ad der ay shun/ When Katy returned home, her adderation for Boadicea, the pet snake her husband Henry kept soon turned to horror. Eating Henry meant she was no longer a civil serpent. Etymology: Adder (snake species) & Adoration (feeling of profound love) Created by: Nosila.
Animenace: /an ih men ace/ In their quest to humanize animals, people overlook their savage nature and innate killer instincts. People have to be brutalized by them, before they realize the dangers of the animenace. When people go wild, they can be equally animenacing! Etymology: Animal, Menace. Animal - creature, living being. Menance - be a constant source of danger and harm. Created by: silveryaspen.
Comments:
Does that include Mighty Joe Young? - metrohumanx, 2009-04-09: 02:06:00
very true - Jabberwocky, 2009-04-09: 10:47:00
Kittycatastrophe: /kit-tee-ka-tas-tro-fee/ The baby mountain lion looked so helpless and adorable when it stumbled into their tent that Sally and Sam decided to take it home. It soon turned into a kittycatastrophe. Etymology: kitty cat + catastrophe Created by: Jabberwocky.
Comments:
admire the dichotomy between the 2 words in yhour etymology! Portrays the change in feelings ever so well! - silveryaspen, 2009-04-09: 16:07:00
More...
To see more verboticisms for this definition go to: Omigod! That is a huge snake!
More Winning Words:
More Verboticisms! See the winning words for: Have you seen my wedding rings?