Vote for the best verboticism.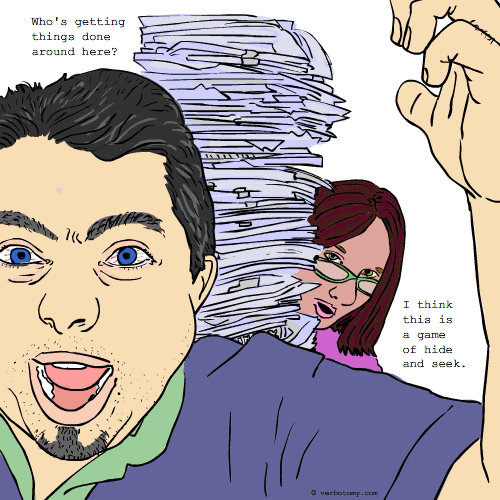 DEFINITION: n. A momentary feeling of relief mixed with lingering dread, which occurs when your boss marches past the piles of unfinished work on your desk. v. To sigh with relief after your boss marches past your desk
Verboticisms
Click on each verboticism to read the sentences created by the Verbotomy writers, and to see your voting options...
You have two votes. Click on the words to read the details, then vote your favorite.
Created by: OZZIEBOB
Pronunciation: SKWURM-pahyl
Sentence: As files began to stack higher and higher in Bob's in-tray, fellow workers realized that it was a clever ploy to avoid the boss's glare and hide his own squirmpile.
Etymology: SQUIRM: to feel or display discomfort or distress, as from reproof, embarrassment, pain, etc & PILE: an assemblage of things laid or lying one upon the other: a pile of papers.
----------------------------
COMMENTS:
SQUIRMPILE...disturbingly vivid image. - metrohumanx, 2008-08-04: 06:40:00
Is that also what you get from cold office chairs and too many donut runs? - pungineer, 2008-08-04: 09:18:00
Good word...I think most people have squirmpiles at work! - Nosila, 2008-08-04: 17:48:00
----------------------------
Created by: happyhippy
Pronunciation: dread/el/ief
Sentence:
Etymology: dread - as in dreading something, relief- relived about something put them together to get the meaning or dreadelief
Created by: kendriveset
Pronunciation: cir-cle-sherk
Sentence: Debbie liked to circleshirk whenever her supervisor, Bob, tried to micro-manage. Sometimes it even made the boring day at work kind of exciting, yet fearful.
Etymology: circle + shirk: to hide amidst the piles of work to avoid work/the boss.
----------------------------
COMMENTS:
cute - Nosila, 2010-01-05: 18:47:00
----------------------------
Created by: unreal5
Pronunciation:
Sentence: Totally slackawinned my boss. He never knew a thing!
Etymology:
Created by: galwaywegian
Pronunciation: desk ape isum
Sentence: the euphoria of deskapism evaporated when the vp's number lit up his intercom.
Etymology: desk, escapism
----------------------------
COMMENTS:
Darn it, it's just too good. - Clayton, 2007-06-11: 22:18:00
----------------------------
Created by: Nosila
Pronunciation: re spyte full
Sentence: Lolly had a momentary feeling of being respiteful when her boss stormed past her desk, piled high with incomplete work. He ranted but did not look at her direction. This relief did not last long, as the boss had not had his glasses on. Once he donned them, he noticed Lolly's desk and bolted straight for it. Luckily, she had snuck off for her lunch break just in time. And also luckily, he had a very short attention span.
Etymology: Respite (the act of reprieving; postponing or remitting punishment;a (temporary) relief from harm or discomfort) & Spiteful (the quality of threatening evil)
Created by: sanssouci
Pronunciation: Eg Sec Trick Aysion
Sentence: "I experienced a moment of pure exectrication as my boss walked past my desk without noticing the serious lack of work I had done all day, I really must conceal the piles of overflowing documents that need filing just in case I get busted."
Etymology: Exec, The boss. Extrication, To free or release from entanglement; disengage: to extricate someone from a dangerous situation.
Created by: jadenguy
Pronunciation: HI rar ko THRILL
Sentence: Hierarchothrill was the order of the day, though their anarcho-ad-hoc often lacked the resources to entice anybody to fight for control. It would be a long time until another visionary of Jilo's calibur took hold of the reigns.
Etymology: Heirarcy + Thrill
----------------------------
COMMENTS:
They would know when another such visionary came along. Whosoever pulls this letter opener from this paper weight will be the one true king of the office -- the modern equivalent of excalibur. - petaj, 2007-06-11: 04:40:00
great sounding word - Jabberwocky, 2007-06-11: 13:08:00
that would be an impressive feat indeed! most exalted would his triumphant rise be! and thanks, jabber. - jadenguy, 2007-06-11: 15:22:00
all hail the new king of human resources - HRthur and his good friend Outsourcealot - rikboyee, 2007-06-11: 20:20:00
It's good to know that shiftalry is not dead, but it's good riddance to Middieval Managers. - petaj, 2007-06-12: 07:46:00
----------------------------
Created by: hatman003
Pronunciation:
Sentence: Good sloozing when the boss went past
Etymology:
Created by: artr
Pronunciation: bigwigjig
Sentence: Mary's bigwigjig was short-lived as the company "suits" passed by her desk without so much as a glance. She got all the attention she could stand later when her supervisor passed along the corporate concerns over productivity.
Etymology: bigwig (an important person)+ jig (a lively dance with leaping movements)
----------------------------
COMMENTS:
:-D - CharlieB, 2011-05-16: 06:47:00
----------------------------