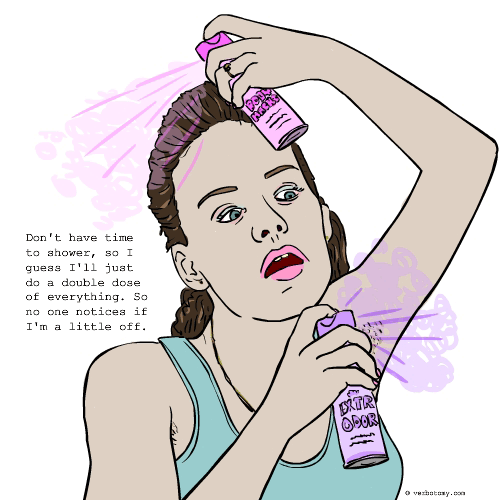 DEFINITION: n. A person who wears way too much perfume or cologne. v. To reek of perfume or cologne so strongly that it literally makes other people sick.
Perfumigate
Top verboticism of the day created by artr
Pronunciation: per-fyoom-mi-geyt
Sentence: After her month-long camping trip, without access to a proper shower, it was necessary to perfumigate Joan just to be allowed on the bus home.
Etymology: perfume (a substance, extract, or preparation for diffusing or imparting an agreeable or attractive smell, especially a fluid containing fragrant natural oils extracted from flowers, woods, etc., or similar synthetic oils. ) + fumigate (to expose to smoke or fumes, as in disinfecting or exterminating roaches, ants, etc.)
Created by: artr.
More Top Verboticisms:
(Invented words created by the Verbotomy Writers)
Odorium: // Etymology: Created by: readerwriter.
Youreeka: /yew-REEK-uh/ Eureka! thought Jan when she came up with what she thought was the very clever idea of bypassing a shower and simply doubling up on deodorant spray, but her friends and acquaintances silently shouted 'youreeka' whenever they got close to her. Etymology: Blend of you and reek, word play on the word 'eureka'. Created by: Mustang.
Comments:
funny - Jabberwocky, 2009-01-23: 13:45:00
Great word - TJayzz, 2009-01-23: 14:16:00
Outstanding! - silveryaspen, 2009-01-23: 16:13:00
Stenchtorian: /stench-tor-ee-an/ Sally was a stenchtorian who could bring people to their knees with tears in their eyes with only a raised arm - too bad she was a crossing guard. Etymology: stentorian (loud and powerful) + stench Created by: Jabberwocky.
Comments:
a classic! - galwaywegian, 2009-01-23: 08:07:00
Another great word - TJayzz, 2009-01-23: 14:13:00
Super create - silveryaspen, 2009-01-23: 16:11:00
More...
To see more verboticisms for this definition go to: Don't have time for a shower...
More Winning Words:
More Verboticisms! See the winning words for: Do you have anything to say about your predecessor?