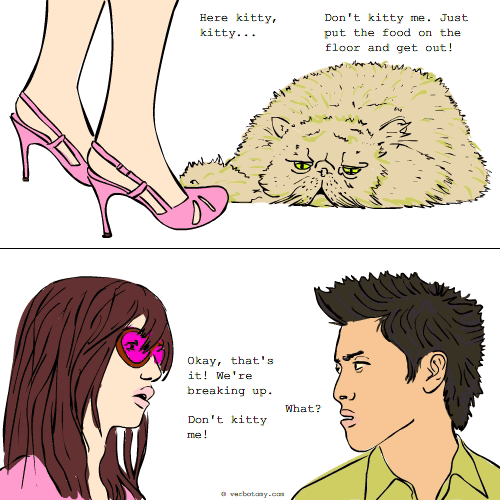 DEFINITION: v. To collect all the emotional energy you receive from one person, and then share it with the very next person you meet. n. Emotional transference.
Forwardfeel
Top verboticism of the day created by remistram
Pronunciation: fore-ward-feel
Sentence: He knew that her hatred towards his mother was going to be a forwardfeel towards him. It would manifest itself in the form of her refraining to do his laundry.
Etymology: forward (transmit, send) + feel (to be emotionally affected by)
Created by: remistram.
More Top Verboticisms:
(Invented words created by the Verbotomy Writers)
Transferlament: /trans-FER-leh-ment/ Whenever Sally was hit with negative emotions from her interactions with her mother, which was a very frequent occurrence, she would transferlament, laying all her tears and woes on her boyfriend Frankie. Etymology: Bland of 'transfer' (to shift something or someone from one place to another) and 'lament' (to feel, show, or express grief, sorrow, or regret) Created by: Mustang.
Dumpstir: /Dum-pah-ster/ "'Baggage? I don't think so. Why should I be the only person to carry this burden? I will off load this information, even if it's mentally scaring for the receiver'", thought Michael as he passed on the difficult news that his wife's thrush had flared up again. Etymology: A convolution of 1) Dumpster (USually)(n) a vessel used for storing junk or unwanted items 2) stir (v) to mix or mix up, perhaps in a mischievious way (colloq). Created by: scrabbelicious.
Emopoop: /ee-moh-poop/ Michael always had some difficulty sharing his feelings. But sooner or later, they would well up inside and he would just let it all out in one giant emopoop. It was usually a quite messy -- you wouldn't want to be trapped in the same room with him when it was happening -- but in the end, he always felt much better. Etymology: emote + poop Created by: jrogan.
Comments:
emoglopic! - Nosila, 2009-08-07: 22:25:00
More...
To see more verboticisms for this definition go to: Don't kitty me!
More Winning Words:
More Verboticisms! See the winning words for: Wa!