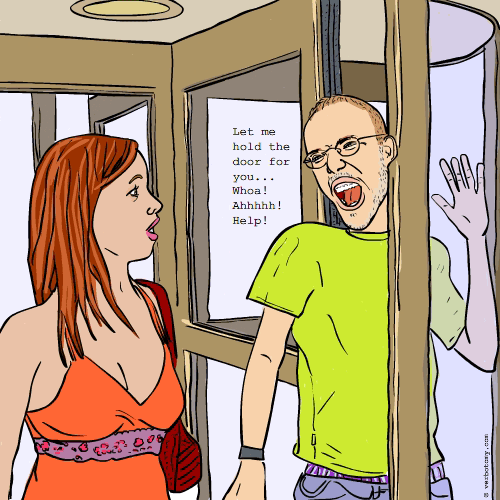 DEFINITION: n., A gallant gesture which does not produce the desired effect because of poor execution. v., To offer a small gesture of assistance, which backfires as you trip over your own kind intentions.
Shrivalry
Top verboticism of the day created by galwaywegian
Pronunciation: sh riv al ree
Sentence: His attempt at chivalry quickly turned into shrivalry as the revolving crushed his pride and other more sentitive bits
Etymology: chivalry, shrivel
Created by: galwaywegian.
Comments:
ouch! - very funny - Jabberwocky, 2008-09-24: 13:15:00
More Top Verboticisms:
(Invented words created by the Verbotomy Writers)
Urbean: /ur-bean/ John's attempt to be urbane, chivalrous, courteous, polite and just plain well-mannered became urbean when his head got jammed in the doorway helping a damsel in distress. Etymology: URBEAN - noun - from URBANE (polite, refined and often elegant in manner) + MR. BEAN Created by: Stevenson0.
Shrivelry: /shriv el ree/ When he got caught twice in the revolving door after allowing his date to go through first, Lance A. Lott experienced the agony of shrivelry. Once a knight is enough. Etymology: Shrivel (to wither;decrease in size,range or extent) & Chivalry (gallantry,courtesy,medieval principles of knighthood) Created by: Nosila.
Etitwit: /ed-i-twit/ Poor Eugene was always trying to gain points with the ladies. Unfortunately his attempts at opening doors, putting down his coat over puddles and the like, would always backfire. Instead of being known as the "knight in shining armor" of the apartment building, he was known as etitwit of the lobby. Etymology: Etiquite: Rules of behavior, propriety, decorum, manners. Twit: A foolish or annoying person. Created by: lumina.
More...
To see more verboticisms for this definition go to: Let me hold the door for you...
More Winning Words:
More Verboticisms! See the winning words for: Please do not talk to me while we are in the office.