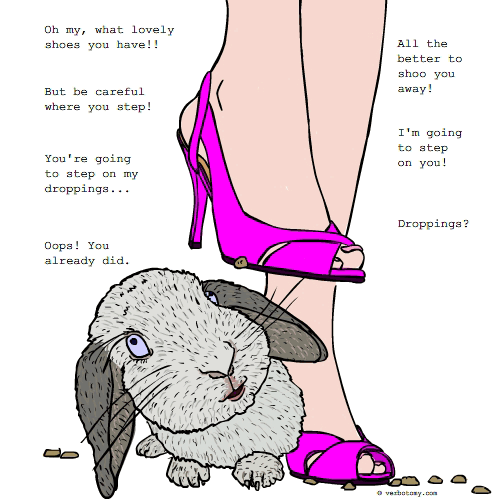 DEFINITION: v. To display your power in social network by picking on the weaker members of the community. n. A person who steps on other people's toes and kicks bunnies.
Membrrrr
Top verboticism of the day created by purpleartichokes
Pronunciation: mem-burrrr
Sentence: Hitting the "Create-a-Word" button on Verbotomy, purpleartichokes was "rewarded" with James' pre-programmed response: "Membrrrr" Loading: Checking dictionary for possible matching words... Spelling: Looks like your keyboard got stuck on one letter. Do you want to spell it like that? Existing: As expected, with such random letters Membrrrr does not match any existing dictionary words. Unique: And... (another insult that didn't copy. Care to fill in the blank James?) Purple now suspects that James is not only the host, but also a membrrrr.
Etymology: member, brrrr (an icy reaction to being given the cold shoulder)
Created by: purpleartichokes.
Comments:
Are you suggesting that the our automated tech support and creativity hints are a little icy? ~ James - Verbotomy, 2008-04-02: 07:26:00
suggesting?! heh! Very creative, purple! (May I call you purple?) - Jamagra, 2008-04-02: 07:53:00
I dunno James, why don't you just make the comments more succinct; say something like, "Wow, that's a really, really, crappy word! Care to join another site?", and give a link to Hooked on Phonics. Of course I jest... I love the verbsnottery! And thanks for the sentence! Jamagra, I think Miss Speller may be a better moniker for me. - purpleartichokes, 2008-04-02: 09:44:00
and her's one for you purple 'Try to remembrrrr the kind of Septembrrrr' - Jabberwocky, 2008-04-02: 12:51:00
oops should have been 'here's' - Jabberwocky, 2008-04-02: 12:52:00
Gawd, I hate that song. (then follow, follow-follow-follow...) Gee, thanks. - purpleartichokes, 2008-04-02: 19:07:00
Very interesting! - OZZIEBOB, 2008-04-02: 20:34:00
More Top Verboticisms:
(Invented words created by the Verbotomy Writers)
Stabotage: /stab-oh-taj/ Max' prime motivation in life was to stabotage friendly environments. Etymology: sabotage + stab Created by: bookowl.
Comments:
Good word! - Mustang, 2008-04-02: 18:05:00
"Beastie Boys" stuff! - OZZIEBOB, 2008-04-02: 20:45:00
Joylessfrumper: /Joy-less-frump-er/ Froncene was a mean old joylessfrumper and when she would get angry, it would make you want to kick her in her rumper! Etymology: Joyless: Cheerless; dismal,lacking joy. Frumper: (slang for frumpy) A girl or woman regarded as dull, plain, or unfashionable,dowdy,dreary and drab. A person regarded as colorless and primly sedate. Created by: abrakadeborah.
Blunderella: /blun-der-EL-lah/ Ellen was known (behind her back, of course) as blunderella for her lousy social skills and the appellation was derived from her uncanny ability to immediately turn a friendly discussion into a disaster thru her mindless though unintended insults which usually targeted the most innocent of the participants. Etymology: Blend of Blunder and the name Ella, a far fetched play on the name Cinderella. Created by: Mustang.
Comments:
What happens to her at midnight??? - Nosila, 2009-05-22: 00:10:00
More...
To see more verboticisms for this definition go to: You're going to step on my droppings...
More Winning Words:
More Verboticisms! See the winning words for: I'll make everyone erase their hard drives!