Vote for the best verboticism.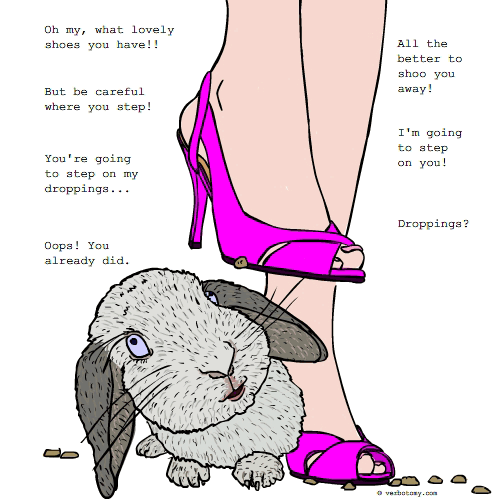 DEFINITION: v. To display your power in social network by picking on the weaker members of the community. n. A person who steps on other people's toes and kicks bunnies.
Verboticisms
Click on each verboticism to read the sentences created by the Verbotomy writers, and to see your voting options...
You have two votes. Click on the words to read the details, then vote your favorite.
Created by: Nosila
Pronunciation: tram pil hefs kin
Sentence: In the swinging Sixties, many a cute girl sought fame and fortune by working at the Playboy Clubs as a Playboy Bunny. Some girls thought they'd get more attention if they became a trampleshefskin and clawed and slept their way to the top. Some succeeded, but others found to their dismay that Hef just wanted to find somebunny to love, a different one each night, that is...
Etymology: Tramp (a floozy) & Trample (injure by trampling or as if by stomping on)& Hef's Kin (bunnies, of course) & Wordplay on Rumpelstiltskin (deceptive dwarf of Grimms; fairy tale)
Created by: Mustang
Pronunciation: Ack - ruh - MONE - ee - miss
Sentence: Blanche never misses a chance to point out other people's mistakes or weak points and considers herself to be a bit better than everyone else. But she is regarded in her social circles as an acrimonymiss because of the nasty manner in which she delivers her criticisms.
Etymology: Blend of acrimony and the title 'miss'
Created by: bookowl
Pronunciation: stab/oh/taj
Sentence: Max' prime motivation in life was to stabotage friendly environments.
Etymology: sabotage + stab
----------------------------
COMMENTS:
Good word! - Mustang, 2008-04-02: 18:05:00
"Beastie Boys" stuff! - OZZIEBOB, 2008-04-02: 20:45:00
----------------------------
Created by: Kennecticut
Pronunciation: Si-kahh-tic unusual behaviour, as well as difficulty with social interaction and impairment of good judgement
Sentence: Sigh,..it`s chaotic enough without this sighchotic coming to these get togethers and adding even more chaos with his know-it-all mentality.
Etymology:
----------------------------
COMMENTS:
Very clever. - OZZIEBOB, 2008-04-02: 20:41:00
----------------------------
Created by: purpleartichokes
Pronunciation: mem-burrrr
Sentence: Hitting the "Create-a-Word" button on Verbotomy, purpleartichokes was "rewarded" with James' pre-programmed response: "Membrrrr" Loading: Checking dictionary for possible matching words... Spelling: Looks like your keyboard got stuck on one letter. Do you want to spell it like that? Existing: As expected, with such random letters Membrrrr does not match any existing dictionary words. Unique: And... (another insult that didn't copy. Care to fill in the blank James?) Purple now suspects that James is not only the host, but also a membrrrr.
Etymology: member, brrrr (an icy reaction to being given the cold shoulder)
----------------------------
COMMENTS:
Are you suggesting that the our automated tech support and creativity hints are a little icy? ~ James - Verbotomy, 2008-04-02: 07:26:00
suggesting?! heh! Very creative, purple! (May I call you purple?) - Jamagra, 2008-04-02: 07:53:00
I dunno James, why don't you just make the comments more succinct; say something like, "Wow, that's a really, really, crappy word! Care to join another site?", and give a link to Hooked on Phonics. Of course I jest... I love the verbsnottery! And thanks for the sentence! Jamagra, I think Miss Speller may be a better moniker for me. - purpleartichokes, 2008-04-02: 09:44:00
and her's one for you purple 'Try to remembrrrr the kind of Septembrrrr' - Jabberwocky, 2008-04-02: 12:51:00
oops should have been 'here's' - Jabberwocky, 2008-04-02: 12:52:00
Gawd, I hate that song. (then follow, follow-follow-follow...) Gee, thanks. - purpleartichokes, 2008-04-02: 19:07:00
Very interesting! - OZZIEBOB, 2008-04-02: 20:34:00
----------------------------
Created by: scarletzinc
Pronunciation: stay-pahr-foe
Sentence: She just walks in here and starts judging us. She's such a stepperfoe.
Etymology: Stepper-one who steps on other people's feelings/personality. Foe-enemy or villain
Created by: Mustang
Pronunciation: blun-der-EL-lah
Sentence: Ellen was known (behind her back, of course) as blunderella for her lousy social skills and the appellation was derived from her uncanny ability to immediately turn a friendly discussion into a disaster thru her mindless though unintended insults which usually targeted the most innocent of the participants.
Etymology: Blend of Blunder and the name Ella, a far fetched play on the name Cinderella.
----------------------------
COMMENTS:
What happens to her at midnight??? - Nosila, 2009-05-22: 00:10:00
----------------------------
Created by: Nosila
Pronunciation: blog gres sor
Sentence: In modern day terms, the Big Bad Wolf would be a blogressor intimidating those 3 Little Piggies on his blog. He'd dis their lifestyles and swear to do physical damage to their cribs, just because he could!
Etymology: Blogger (someone who communicates on a website, giving their opinion to all and sundry)& Aggressor (a confident ;someone who attacks)
Created by: Leroylee
Pronunciation: Bunny-Ki-ker
Sentence: She's such a bunnykicker, ignore her!
Etymology: from the word Bunny and Kicker
Created by: abrakadeborah
Pronunciation: Joy-less-frump-er
Sentence: Froncene was a mean old joylessfrumper and when she would get angry, it would make you want to kick her in her rumper!
Etymology: Joyless: Cheerless; dismal,lacking joy. Frumper: (slang for frumpy) A girl or woman regarded as dull, plain, or unfashionable,dowdy,dreary and drab. A person regarded as colorless and primly sedate.