Vote for the best verboticism.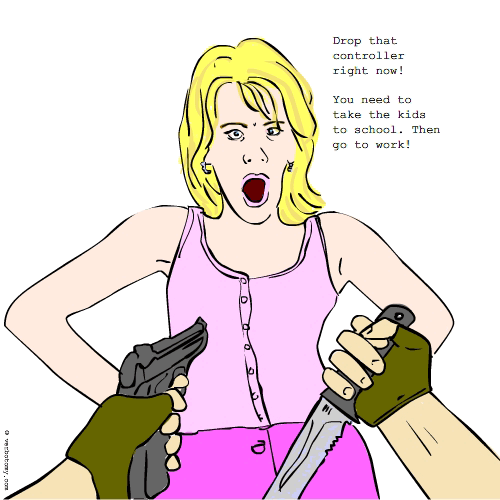 DEFINITION: n. A state of extreme agitation developed after extended periods of non-stop video game participation; commonly affects males of all ages! v. To twist yourself up into a knot while playing video games.
Verboticisms
Click on each verboticism to read the sentences created by the Verbotomy writers, and to see your voting options...
You have two votes. Click on the words to read the details, then vote your favorite.
Created by: mweinmann
Pronunciation: joi - stik - ness
Sentence: Andre was developing a condition called joystickness; resulting from too many houurs of playing video games. Tightly clenching his input device, he began to shout threats at anyone who tried to interrupt his play. He had lost touch with reality and was becoming psychotic.
Etymology: joystick, sickness
----------------------------
COMMENTS:
Perfect word for the definition! - splendiction, 2009-07-27: 16:05:00
----------------------------
Created by: artr
Pronunciation: stoo-puh-wahy-fahy
Sentence: Some would blame the coffee, some the lack of sleep but 18 hours of computer combat left Darrell completely stupewified.
Etymology: stupefied (stunned, shocked) wifi (Wi-Fi is a popular technology that allows an electronic device to exchange data wirelessly (using radio waves) over a computer network)
Created by: artr
Pronunciation: ilektroumə
Sentence: Summer has not been good for Billy. After 3 straight days of video gaming, he is having a bad case of electrauma. His game of choice, Grand Theft Auto, has left him a virtual vidiot. Everything he picks up becomes a weapon. When he tried to stab his roommate with a toothbrush the attendants at his nursing home decided it was time to cut off his game privileges and get him to sleep.
Etymology: electronic (relating to or carried out using a computer or other electronic device) + trauma (emotional shock following a stressful event or a physical injury)
----------------------------
COMMENTS:
vidiot - hilarious! Good word! - splendiction, 2009-07-27: 20:53:00
----------------------------
Created by: petaj
Pronunciation: wee-zhure
Sentence: It's no use pretending to wheeze. You're such a drama queen. I don't for one minute think you're having a wiizure. The power has been off all morning.
Etymology: wii + seizure as opposed to a wiifit :)
Created by: galwaywegian
Pronunciation: ink on sow lab ell
Sentence: without his games console he was inconsoleable
Etymology: console inconsolable
Created by: jboehnker
Pronunciation: Oh ver geekd'
Sentence: The police officer was unsympathetic to Bob's claim that he was only speeding because he overgeeked on Rad Racer that evening.
Etymology: overdosed + geek
Created by: Jabberwocky
Pronunciation:
Sentence: His nervous system was so electrified by the intensity of 'Creatures of the Deep' that her nagging caused extreme ngagerage.
Etymology: road rage + N-GAGE
Created by: chris
Pronunciation: con-soh-lie-tus
Sentence: Bloodshot eyes...ragged breathing....sweaty palms...yup, Nigel clearly had a nasty dose of consolitis
Etymology: console + -itis (suffix meaning inflammation, irritation)
Created by: dekra
Pronunciation: Eggs-ass-per-stay-shun
Sentence: When Tommy emerged from the tunnel vision that COD became after 4 hours, he was in a state of extreme exaasperstation.
Etymology: Exasperation + PlayStation
Created by: Nosila
Pronunciation: fun rest
Sentence: After his 24 hour marathon of video games, his nerves ragged and his hyperactivity in overdrive, Vern was in a state of funrest. He couldn't psych hmself into sleeping or going to work or doing anything so mundane. His wife Stacy had a solution. She made him go lie down and try to sleep for a while, since a man his age needs a few hours every night. When he finally dozed off, she had come up with the perfect solution. All the consoles and games were well hidden or thrown away so that he could return to normal. Till next time...
Etymology: Fun (violent and excited activity; activities that are enjoyable or amusing) & Unrest (a state of agitation or turbulent change or development;a feeling of restless agitation)