Vote for the best verboticism.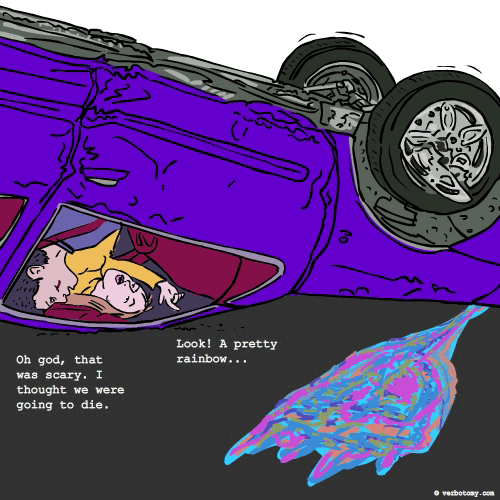 DEFINITION: v. To see beauty in the midst of a complete disaster. n. The ability to see beauty in the rainbow hues of a toxic oil spill, or in the remnants of a poster torn down long ago, or in the subtle cracks in the plaster of a cheap, cold-water flat.
Verboticisms
Click on each verboticism to read the sentences created by the Verbotomy writers, and to see your voting options...
You have two votes. Click on the words to read the details, then vote your favorite.
Created by: readerwriter
Pronunciation: quihk-fihx-ah-tihc
Sentence: The sun was rising as the waters reached the second floor windows of their home. Rube had been at work all night singing "Running Bear loved little White Dove, with a love, deep as the sea...". Now, he was putting the finishing touches on the canoe he had been cheerfully carving from the large tree filling most of their bedroom. As Rube's wife climbed in, it dawned on her that her husband might be an incurable quickfixotic.
Etymology: Building on QUIXOTIC (from Don Quixote/chasing windmills/Man of La Mancha), meaning idealistic in a romantic or impractical way + QUICK FIX
----------------------------
COMMENTS:
super - Jabberwocky, 2009-05-13: 05:55:00
----------------------------
Created by: meganfis
Pronunciation: Beati-horid-berg
Sentence: Oh, my, dog look how beatihoridberg that colorful poisoness beatle is!
Etymology: Beati- meaning the beautiful looking object. Horid- gross situation. Berg- the place of accident
Created by: Nosila
Pronunciation: Poz pek tif
Sentence: Pandora viewed tragedies differently than others...she had a different pausepective when it came to bad things or events. Like when she saw the red blood ooze from the wounds her knife had inflicted upon her unfaithful boyfriend, she thought, "Cool, that's the exact same shade as my new nail polish!" Or when she spied the blue tinge to his lips which happened after she had administered the cyanide in his cocktail. It was the grey-blue of the clouds before a violent thunderstorm. She just had to stop listening to that tune from "Chicago"..."He had it coming...he had it coming...!"
Etymology: Pause (reflect, take a moment to consider or think about) & Pos ( abbreviation of positive;involving advantage or good) & Persepective (a way of regarding situations or topics etc; viewpoint; vantage point)
----------------------------
COMMENTS:
Pandora seems to be quite the extolminatrix! - dochanne, 2009-05-12: 05:22:00
----------------------------
Created by: specks28
Pronunciation: Col-lar-if-fic
Sentence: The car crash looked like a colorific accident.
Etymology: Color- colorful ific- terrific
Created by: artr
Pronunciation: trou-muh-toh-pee-uhn
Sentence: Jane sees herself as a traumatopian, envisioning the best of any calamity. Some of her friends think she's on transcendental medication.
Etymology: trauma (a body wound or shock produced by sudden physical injury, as from violence or accident) + utopian (involving idealized perfection)
Created by: rfrey121
Pronunciation: beau-bac-le
Sentence: Amidst the tragedies, the passengers witnessed a beaubacle.
Etymology: beau- beautiful bacle- disaster
Created by: artr
Pronunciation: əpbētn
Sentence: No matter what slaps him upside the head, Tim is always upbeaten. When tragedy gives him a beatdown he always comes up smiling. Some think he is very brave and optimistic. Others think he is a complete simpleton.
Etymology: upbeat (cheerful; optimistic) + beaten (exhausted and dejected)
Created by: RachelRocks
Pronunciation: (Spin-trif-i-cate)
Sentence: She spintrificated the hurricane's eye to see the bright sky beyond it.
Etymology: Spin: turn around Trif: adapt I: I cate: Choice
Created by: DeanHildner
Pronunciation: 'Be-zasting'
Sentence: John's dog's death did not phase him and he could not stop bisasting about how he was able to get a brand knew puppy that weekend.
Etymology:
Created by: SydneyNFox
Pronunciation: EAR-AT-OH-HI-PER-BEE-YOU-TEE-FI-KAY-SHUN
Sentence: I fell in the street and got my leg run over. I may be hurt but I can't help but erratohyperbeautificating the situation, just look at that shiny penny!
Etymology: Erratic - (Latin: errare - to stray) Hyper - (English: - overactive) Beauty- (Latin: bellus - beautiful)