Vote for the best verboticism.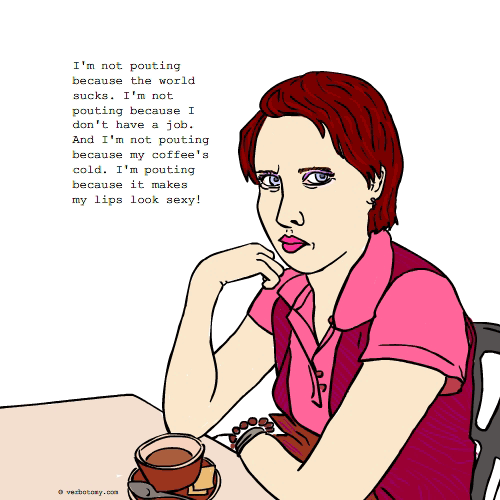 DEFINITION: n. A person who regularly sulks inside cafes and coffeehouses all day, contributing nothing more to their world than a pout. v. To glower angrily at the state of world affairs while remaining inactive and unemployed.
Verboticisms
Click on each verboticism to read the sentences created by the Verbotomy writers, and to see your voting options...
You have two votes. Click on the words to read the details, then vote your favorite.
Created by: Nosila
Pronunciation: ja va prob lem
Sentence: Sharon sat petulantly in her favourite coffee bar scowling as usual. She thought it made her look intellectual and intriguing... but to the other patrons, her body language said javaproblem?
Etymology: Java (coffee) & Problem (Issue) and Wordplay on "Do you have a problem?" (facetious question)
Created by: galwaywegian
Pronunciation: starr yeukks
Sentence: the staryucks always take the best seats in the cafe and the solitary readers always take the largest table.
Etymology: starbucks yuck
----------------------------
COMMENTS:
Just like people on airplanes who grab the window seats and then either read all the way there or worst stil, draw the blinds so no one can see where they are going...don't get me started! - Nosila, 2010-07-16: 23:00:00
----------------------------
Created by: artr
Pronunciation: īdlpātid
Sentence: Roger is completely idlepated. He is so annoyed at not having a job that he refuses to look for one. Afterall, doing so means he has to come in contact with the very people who put him in this state to begin with. He knows so much more than those jerks who call themselves managers but can,t stand the thought of BEING one of those arrogant morons. So here he sits at Java Joe,s, emotionally constipated, plotting what he won,t do next.
Etymology: idle (not working; unemployed; avoiding work; lazy) + addlepated (lacking in common sense; having a muddled mind)
Created by: petaj
Pronunciation: lat-ay-tude
Sentence: Naomi thought it very fashionable and cool to adopt lattetude. So after her community service in the sanitation department she took to hanging around cafés adopting poses and pouts to convey her disinterest in everything, while spending a fortune on café lattés.
Etymology: latté (milky coffee) + lassitude (lack of emotion or interest) + attitude (posture of the body)
----------------------------
COMMENTS:
Absolutely splendid - Rutilus, 2008-05-16: 11:12:00
Like it a latte! - Nosila, 2008-05-16: 08:37:00
let me espresso my agreement (ouch) - stache, 2008-05-16: 08:59:00
very nice - Jabberwocky, 2008-05-16: 10:11:00
----------------------------
Created by: josje
Pronunciation: bad emo
Sentence: you are just a bademo
Etymology: bad and EMO
Created by: Jabberwocky
Pronunciation: cop/out/cheeno
Sentence: Sally believed in the philosophy of coppoutchino and regularly drowned her sorrows in a big cup of freshly brood coffee.
Etymology: cop out + pout + cappucino
----------------------------
COMMENTS:
Like it, funny! - TJayzz, 2008-05-16: 11:52:00
rolls off the tongue - petaj, 2008-05-17: 05:15:00
Nice blend! - Tigger, 2008-05-17: 14:55:00
----------------------------
Created by: galwaywegian
Pronunciation: bow rista
Sentence: Java Lyn was such a borista, rambling on without getting to the point.
Etymology: barrista, bore
Created by: stache
Pronunciation: dĭ-prěs'ka-fā'
Sentence: There she was again slumped over her organic Sumatra-Peru blend latte with soy milk and a double shot, in the upholstered chair section of the corner Starbucks, eyes lined in red and moping about the latest fight with her girlfriend and her relative destitution since the loss of her job in the thrift store that used to occupy this space. She'd no doubt leave again without tipping and return to the luxury condo that her dad maintained for her for some afternoon poolside tanning. What a depresscaffe.
Etymology: depression, in psychiatry, a symptom of mood disorder characterized by intense feelings of loss, sadness, hopelessness, failure, and rejection. caffè, It. for coffee,borrowed from the Ottoman Turkish kahveh, and the Arabic qahwa (قهوة) collectively. The origin of the Arabic term is uncertain; it is either derived from the name of the Kaffa region in western Ethiopia, where coffee was cultivated, or by a truncation of qahwat al-būnn, meaning "wine of the bean" in Arabic; also a neat rhyme with Nescafe (tm).
Created by: kspivey
Pronunciation:
Sentence:
Etymology: