Vote for the best verboticism.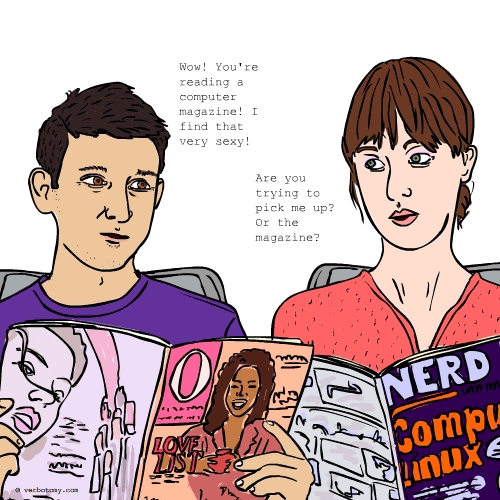 DEFINITION: v. To methodically read the magazines dedicated to the opposite sex in an effort to sensitize yourself to, and learn how to manipulate, their needs and aspirations. n., A person who studies gender differences in order to exploit them.
Verboticisms
Click on each verboticism to read the sentences created by the Verbotomy writers, and to see your voting options...
You have two votes. Click on the words to read the details, then vote your favorite.
Created by: Mustang
Pronunciation: Chik - kwest
Sentence: Maurice put almost every waking moment into his chickquest endeavors, trying to learn to lure and conquer as many females as possible.
Etymology: Chick (girl) + quest (pursuit) + conquest
Created by: artr
Pronunciation: koz-moh-nip-yuh-ley-shuhn
Sentence: "What women really want", "How to tell he cares just for you"... The articles in women's magazines read like an instruction manual for men with one thought in mind. Jimmy's Cosmonipulation involves reading through these magazines to glean the best techniques to put that one thought into action.
Etymology: Cosmo (shortened name of a popular women's magazine) manipulation (to negotiate, control, or influence (something or someone) cleverly, skilfully, or deviously)
Created by: spamtramp
Pronunciation:
Sentence:
Etymology:
Created by: Maxine
Pronunciation: Cawz moh 'saw jih nist
Sentence: Nancy could tell that Jerry (a Cosmosogynist who, in the hope of deeper understanding, had studiously memorized every tip and trick encountered in his meticulous reading of women's magazines) wanted desperately to get laid.
Etymology: Cosmo, misogyny
----------------------------
COMMENTS:
Very Interesting word! - OZZIEBOB, 2008-01-17: 22:30:00
----------------------------
Created by: Mustang
Pronunciation: jen-DIP-yew-layt
Sentence: Thinking himself to be the ultimate ladies man, Rupert is an absolute phony who always puts on airs about his ficticious thoughtful and considerate ways in order to gendipulate females he comes in contact with.
Etymology: Blend of 'gender' (sex) and 'manipulate' ( to manage or influence skillfully, especially in an unfair manner: to manipulate people's feelings)
Created by: Tigger
Pronunciation: /kun-temp'-tris/ Masculine: Contempter /kun-temp'-ter/
Sentence: Virginia would always ask to see the football scores, even though she hated football — but most guys dig sports — so, being the contemptress that she is, she used her knowledge like a tool, to bewitch and enchant men.
Etymology: contempt / context - feelings of scorn and aversion / the circumstances surrounding situation (from Latin, contemnere "to scorn") + temptress/tempter - one who entices, or seduces (Latin, temptātor, tempter "to sin")
----------------------------
COMMENTS:
Glad she's not in my circle of friends! Beguiling word! - bananabender, 2008-01-17: 09:29:00
----------------------------
Created by: galwaywegian
Pronunciation: wah aaaaaeeeee stew dent
Sentence: he was a wahaaaaystudent all right, he could open a bra through three layers of clothing while carrying a tray and texting at the same time.
Etymology: a studeny, wahaay!
Created by: Nosila
Pronunciation: har bers ba zar
Sentence: Kenny hung around the drugstore magazine rack in the faint hope that he could show off his harboursbizarre to unsuspecting females!
Etymology: harper's bazaar
Created by: Stevenson0
Pronunciation: fi/nes/sex
Sentence: To appear sensitive and aware of issues affecting women today, John decided to finessex them by reading every female orientented magazine he could find.
Etymology: finesse + sex
----------------------------
COMMENTS:
nice! - Jabberwocky, 2008-01-17: 11:39:00
Clever blend! - OZZIEBOB, 2008-01-17: 22:30:00
Suave word! - bananabender, 2008-01-17: 22:40:00
----------------------------
Created by: silveryaspen
Pronunciation: pump-poll-sex
Sentence: All the survey study companies have resorted to pumpollsex, for in today's world the biggest wallet extraction is sex!
Etymology: pumping the polls for sexual advantage ... pumpollsex
----------------------------
COMMENTS:
reminds me of pumpollstiltskin - Jabberwocky, 2008-01-17: 11:41:00
Thought provoking word, clever! - bananabender, 2008-01-17: 22:53:00
----------------------------