Vote for the best verboticism.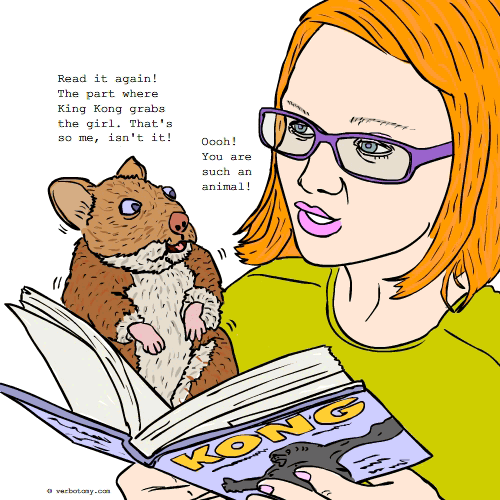 DEFINITION: v. To identify so strongly with character from a book, show, or urban legend, that you become convinced that the story is actually about you. n., A person who believes they are a fictional character in wonderfully tragic and heroic story.
Verboticisms
Click on each verboticism to read the sentences created by the Verbotomy writers, and to see your voting options...
You have two votes. Click on the words to read the details, then vote your favorite.
Created by: ErWenn
Pronunciation: /ˈplɒt.dʒæk/ /plot-jack/
Sentence: My ex plotjacked my favorite song, and now I can't hear it without imagining that it's about her.
Etymology: plot + hijack (as in "skyjack" or "carjack")
Created by: artr
Pronunciation: demēfrôd
Sentence: Wesley loves movies, especially those that depict heroes with supernatural powers. This is because they remind him of himself. When people see him racing down the sidewalk on his Segway, wearing his scarlet cape, all they see is a demifraud.
Etymology: demigod (a being with partial or lesser divine status, such as a minor deity) + fraud (a person or thing intended to deceive others, typically by unjustifiably claiming or being credited with accomplishments or qualities)
Created by: artr
Pronunciation: transfôrmənātər
Sentence: Billy has no personality of his own. He is a transforminator. Whatever "super" character is presented in a movie, TV show or video game he becomes. When he saw Star Wars he was convinced that the force was with him. He re-named the family sheepdog Chewie. When the Matrix was released it was a long trench coat and shades. There was a lot of snarling and grunting emanating from Billy's room when the Hulk was in the theater. His mother doesn't know what to expect if they make a live-action version of Wonder Woman as rumored.
Etymology: Transformer (Transformers is a 2007 live-action film adaptation of the Transformers toy franchise) + Terminator (The Terminator is a 1984 science fiction/action film directed and co-written by James Cameron. It features Arnold Schwarzenegger
----------------------------
COMMENTS:
nice combo - Jabberwocky, 2008-11-17: 12:56:00
VERY thorough mocking. - metrohumanx, 2008-11-19: 20:15:00
----------------------------
Created by: artr
Pronunciation: shamēlyən
Sentence: Joey is a shameleon. When he goes to a movie or play, he often leaves with the feeling that he is somehow connected to the hero and can do much of what was depicted. He has to be very careful choosing what he goes to see. Bond movies? Trouble! Dukes of Hazard? Wrecked his car! His pet gecko may be in trouble if he goes to see **How to train your dragon**.
Etymology: sham (a thing that is not what it is purported to be) + chameleon (a small slow-moving Old World lizard with a prehensile tail, long extensible tongue, protruding eyes that rotate independently, and a highly developed ability to change color)
----------------------------
COMMENTS:
sHAMELESS - Nosila, 2010-04-16: 23:19:00
----------------------------
Created by: Jobanski
Pronunciation: e·go·fab·u·late
Sentence:
Etymology:
Created by: yellowbird
Pronunciation: day-ja-loo
Sentence: Unfortunately, when Sandra read The Metamorphosis to her rodent friend, he experienced such a strong feeling of dejalieu that he turned into a large roach and had to be smashed immediately.
Etymology: deja vu (a familiar feeling) + in lieu of (in place of, or instead of)
Created by: Nosila
Pronunciation: spy dent if fyez
Sentence: Under the clever disguise of a humble sales associate at Home Depot, Sean Moore spydentifies better with his hero, James Bond. Ever vigilant, his imagination in overdrive, he sees KGB agents lurking in Paints...why do they really need fourteen gallons of red paint? Personally Sean prefers his paint shaken, not stirred. That shifty foreign character over in Electrical, is he really buying a new doorbell or parts to build a dirty bomb? And that glamorous femme fatale in Tools...she probably has gotten her marksman accreditation with nail guns and power tools. Sean would like to nail her. And when he goes into the Outdoors Dept., he likes to practise his fencing moves. Touche! Sean stays in top form until the day he will get the call to serve his country and save the world...in the meantime, someone needs mousetraps in aisle 3!
Etymology: Spy (a secret agent hired by a state to obtain information about its enemies or by a business to obtain industrial secrets from competitors;a secret watcher; someone who secretly watches other people;secretly collect sensitive or classified information; engage in espionage) & Identifies ( recognizes as being; establishes the identity of someone or something;considers (oneself) as similar to somebody else)
----------------------------
COMMENTS:
Some idiot always needs mousetraps. Cute word. - artr, 2010-04-14: 12:17:00
----------------------------
Created by: metrohumanx
Pronunciation: tranz-MOE-gull-fry (transmogulfried;transmogulfriar)
Sentence: Cosmo was a very likeable chap-superintelligent and kind to small furry things. I knew him briefly in junior high school, before he disappeared into the sordid subculture of the sixties. No more was heard from him until surfaced one day at Eva's Soup Kitchen. In the intervening decades, Cosmo had TRANSMOGULFRIED to a significant degree. He regaled everyone with his stories about his fortune, made and lost, as a Sheep Wrangler in New Zealand. A few minutes later, he explained his life with the Cargo Cults of the South Pacific. He had been a rocket sled test pilot, a dental floss tycoon, and he could reel off a list of movies he had starred in under various names. Cosmo had TRANSMOGULFRIED his brain, but he was sure to inherit Ted Turner's vast fortune after he liberated Inner Mongolia and become an Ascended Master. Cosmo was a close personal friend of Doctor Terwilliger, whose thousand piano students would one day perform the ultimate piano recital. Cosmo perfected perpetual motion and the motor-operated pushover, but was cheated out of the royalties. He refused to accept money or tobacco, even if it wasn't damp. However, there was ONE favor he asked...please refer to him by his rightful name: Alexander Vasilievich Ungern Von Sternberg.
Etymology: TRANSmogrify+MOGUL+FRY=TRANSMOGULFRY...TRANSMOGRIFY:to change or alter one's perceptions or lifestyle,greatly and often with grotesque or humorous effect, often to the detriment of one's sanity;origin unknown.....MOGUL: A person wielding great power, however imaginary- a tycoon or magnate;Persian Mughul, from Mongolian mongγol Mongol.....FRY: To abuse one's brain to the point of delusion through accidental or intentional ingestion of psychotropic substances, particularly SOMA-the divine mushroom of immortality.... Or an industrial accident or other traumatic event.
----------------------------
COMMENTS:
Nice paintings here: http://www.roerich.org/ - metrohumanx, 2008-11-17: 03:42:00
great etymology - Jabberwocky, 2008-11-17: 12:59:00
Cosmo sounds like The Great Pretender or Catch Me If You Can... - Nosila, 2008-11-17: 20:46:00
Good one. - Mustang, 2008-11-17: 22:47:00
I like this one because it is one of the few verbs. - hyperborean, 2008-11-17: 23:00:00
Yep, good one - OZZIEBOB, 2008-11-18: 03:09:00
----------------------------
Created by: Mustang
Pronunciation: tranz - MOG - ruh - fan - see
Sentence: While reading fantasy stories Mary Beth would often transmogrifancy and actually come to believe she was the heroine in the story.
Etymology: Transmogrify + fancy (fantasize)
----------------------------
COMMENTS:
Anyone that takes a root word from Calvin and Hobbes has my automatic vote. - Banky, 2008-01-24: 15:35:00
----------------------------