Vote for the best verboticism.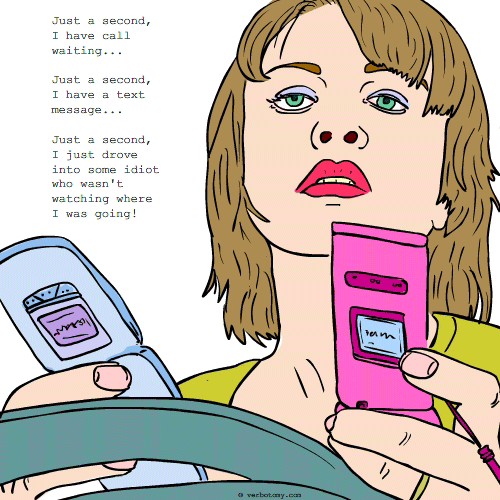 DEFINITION: n. A person who engages themselves in several different communication channels at the same time, without paying attention to any of them v. To constantly switch your focus between cellphone calls, text messages, emails, and anything else that beeps.
Verboticisms
Click on each verboticism to read the sentences created by the Verbotomy writers, and to see your voting options...
You have two votes. Click on the words to read the details, then vote your favorite.
Created by: purpleartichokes
Pronunciation: pol-ee-jah-nik
Sentence: Sue, being polyjawnic, was last seen multichatting on her keyboard and cell phone when the fire alarm went off.
Etymology: polyphonic, jaw (slang for idle chat)
----------------------------
COMMENTS:
Two cheers for multichatting and three cheers for polyjawnic. Both are Jaw-awesome! - silveryaspen, 2008-02-28: 09:36:00
----------------------------
Created by: drewsky
Pronunciation:
Sentence:
Etymology:
Created by: ErWenn
Pronunciation: /ˈiˌdʒʌgḷ/ /EE-Juhg-l/
Sentence: He was an inveterate faultitasker, and he used e-juggle at three portable electronic devices while carrying on polylogues with four different friends. Unfortunately, he can't do this anymore, so he now uses seven devices and has zero friends. In the end, he figured it's all the same, right?
Etymology: from e(lectronic) + juggle
----------------------------
COMMENTS:
See http://www.verbotomy.com/verbottle.php?jargonism_id=4064&definition_id=77 for the origin of "faultitask". - ErWenn, 2008-02-28: 09:28:00
Three great high-tech creates! You hit the juggler vein with this one! - silveryaspen, 2008-02-28: 10:02:00
Jugglers and desultors - must be a circus in town! - OZZIEBOB, 2008-02-28: 15:41:00
----------------------------
Created by: hyperborean
Pronunciation: com pugg ler
Sentence: It was an overwhelming day when Silvia sat down on the subway platform floor to catch up on her work. Passerbys were so impressed watching her type on her computer, text, and talk on the phone all at the same time that they began tossing money into her computer case. She quit her day job when she realized she could make more money as a subway compuggler. She certainly made more than the mime and the juggler at the other end of the platform.
Etymology: comp from computer+ uggler from juggler
Created by: Banky
Pronunciation: twickst-mess-age
Sentence: The full scope of Darlene's twixtmessaging problems was revealed when she arrived home to find her husband had taken their son to the vet to get neutered, but thankfully their new Dachshund was on time for soccer practice.
Etymology: twixt - Middle English word meaning "between", message - communicated information
----------------------------
COMMENTS:
very funny - Jabberwocky, 2008-02-28: 12:40:00
Dog gone funny! - silveryaspen, 2008-02-28: 13:03:00
Your sentences always make me laugh out loud. Great submission! - Tigger, 2008-02-28: 23:18:00
----------------------------
Created by: nickmarziani
Pronunciation: sell-yule-ars (as in arson)
Sentence:
Etymology: Cellular + arse
Created by: Nosila
Pronunciation: mis trak shun
Sentence: The new distracted driving laws were meant for people like Avis. She was always in a state of misstraction while driving, texting, phoning and e-mailing at the same time...usually while applying makeup and drinking coffee. Her car was full of dents...a body shop's delight.
Etymology: Miss (fail to reach or get to) & Distraction ( the act of distracting; drawing someone's attention away from something;an obstacle to attention;an entertainment that provokes pleased interest and distracts you from worries and vexations)
Created by: silveryaspen
Pronunciation: in - cum - ing - tax - t
Sentence: The butterflies in my stomach are caused by the buzz fluttering of all my communication devices. You might say I'im a bit over incomingtaxt.
Etymology: Incoming: arriving Taxed: strained
----------------------------
COMMENTS:
nice one silvery - Jabberwocky, 2008-02-28: 13:20:00
The taxman is sure to have his finger in the pie! Very clever and funny creation. - OZZIEBOB, 2008-02-28: 15:35:00
----------------------------
Created by: LoftyDreamer
Pronunciation: Sing it!
Sentence: ...even though the sound of it is really quite atrocious...Congolia couldn't break herself of the supercellatextemailacallmenowadocious habit of checking her iPhone every two minutes.
Etymology: Loosely based on "supercalifragilisticexpialidocious" from Mary Poppins.
----------------------------
COMMENTS:
fun to sing!! - libertybelle, 2008-12-15: 12:21:00
----------------------------
Created by: petaj
Pronunciation: com + you + ni + cadder
Sentence: Marcel's cell phone was the latest gadget in his Communicadder's toolkit. It joined a blackberry, a pager, a bunch of semaphore flags, a morse code tapper, megaphone, transistor radio, portable tv and laptop.
Etymology: communiator + ADD (attention deficit disorder)
----------------------------
COMMENTS:
Well done. I tried to weave ADD into one of more proposed words - never got to first base. - OZZIEBOB, 2008-03-02: 20:04:00
----------------------------