Vote for the best verboticism.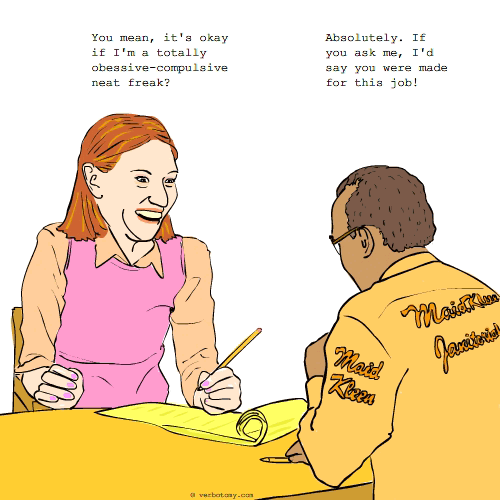 DEFINITION: v. To suddenly discover that your most troublesome personality defect, for which you have been taking medication and/or therapy, is actually your greatest asset. n. A perceived weakness which is actually a strength.
Verboticisms
Click on each verboticism to read the sentences created by the Verbotomy writers, and to see your voting options...
You have two votes. Click on the words to read the details, then vote your favorite.
Created by: galwaywegian
Pronunciation: loo na tik awl the rite bok ses
Sentence: She managed to lunatickalltherightboxes despite the rather stained resumé
Etymology: lunatic tick all the right boxes
Created by: ErWenn
Pronunciation: /ˈɹɛdˌnoʊz/
Sentence: Sadly, while the fact that his face and voice were incapable of expressing emotion was an impressive rednose during the poker tournament, he still couldn't get a date.
Etymology: As in Rudolph the reindeer's shiny red nose
Created by: Clayton
Pronunciation: fawl-TIL-i-tee
Sentence: Madeline's faultility was her incessant nose-blowing. Her husband thought of divorcing her, but she was such an amazing duck call.
Etymology: fault + utility
Created by: Msumida
Pronunciation: Replace the w in worse with bl.
Sentence:
Etymology: Combination of "blessing" and "curse" from the the saying, "It's a blessing and a curse."
Created by: artr
Pronunciation: babəlän
Sentence: Little Johnny Madden was a slow learner. He didn't speak in full sentences til long after his play pals but once he started there was no stopping him. He seemed to revel in the sound of his own voice. His mother's favorite word was "Hush!". Little did anybody realize that he could parlay this annoying trait into a career adding "color" to the commentary of football sportscasters. He would travel from city to city to do his job. Every city he visited would become the new city of Babblon.
Etymology: babble (talk rapidly and continuously in a foolish, excited, or incomprehensible way) + on - A play on Babylon
Created by: petaj
Pronunciation: flawnt-it
Sentence: Cherie really started marketing herself when she realised her flawntit gave her an oddvantage over the other candidates.
Etymology: flaw + If you've got it flaunt it.
Created by: kirkaw
Pronunciation: traw-maze
Sentence: When Michael's obnoxious outburst at the Marsha resulted in her quiting the next day, to the delighted of the rest of the office staff, he was simply traumazed at himself.
Etymology: trauma - amazed
Created by: jadenguy
Pronunciation: luk jaa
Sentence: His inability to talk made him a great grief counciler. His success rate was nearly 87%, with comment cards lauding his ability to listen.
Etymology: lockjaw + luck
Created by: Osomatic
Pronunciation: ben + ih + fit
Sentence: My epilepsy gets me a lot of work in industrial blending applications, so it's turned out to be a benifit.
Etymology: bene + fit (only I spelled it with an "i" instead of the second e, to distinguish it from the original word).
Created by: artr
Pronunciation: nänˈpləspləs
Sentence: The fact that Jerry was unsure what to do and accomplished little made him perfect for his government job. It turned out to be a nonplusplus. He even developed a theory and an entire unofficial training program entitled DYNAMIC INACTION in which you look very busy working in one direction only to reverse course before you get to any measurable goal. The net result; status quo. Not only do you NOT rock the boat, you confine all your activity to the dock.
Etymology: nonplus (surprise and confuse (someone) so much that they are unsure how to react) + plus (an advantage)
----------------------------
COMMENTS:
"DYNAMIC INACTION" - hilarious! Good word - splendiction, 2009-07-31: 18:01:00
----------------------------