Vote for the best verboticism.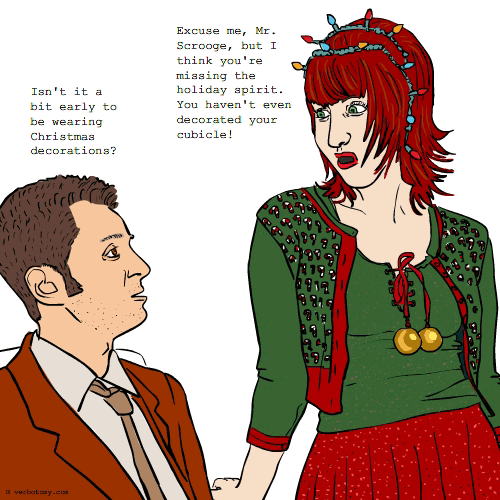 DEFINITION: n., A person so enamored with the holidays that they don't just deck their halls and home, but they also decorate their car, their cubicle, their pets, and themselves. v., To obsessively decorate according to seasonal holidays.
Verboticisms
Click on each verboticism to read the sentences created by the Verbotomy writers, and to see your voting options...
You have two votes. Click on the words to read the details, then vote your favorite.
Created by: MichaelCampbellUK
Pronunciation: fes-kwe-nox-a-fre-nic
Sentence: Ursula's fesquinoxaphrenia drove her like some crazed clockwork squirrel to stockpile the seasons baubles.
Etymology: Fes- (from festive) -quinox (from equinox, a seasonal event) -aphrenia (hebaphrenia, mental illness characterised by extreme hoarding). See 'fesquinoxafrenic' N.
Created by: Nosila
Pronunciation: worn a ment
Sentence: Mary-Chris Mass has for obvious reasons become obsessed with festooning herself, her car, her house and her work space with Christmas decorations. Her efforts to wornament herself, family and colleages has actually paid off. They find it easier to conform to her wishes than to resist. In fact they carry the theme year-round. The office is now painted red and green and holly, ivy, poinsettias and mistletoe grow in the office atrium. Because her office is a call centre conducting market research, the building is now being called the North Poll!
Etymology: Worn (past participle of wear;something adorning oneself) & Ornament (v. to make more attractive by adding ornament, colour, etc.)
Created by: snekorb
Pronunciation:
Sentence:
Etymology:
Created by: rombus
Pronunciation: jing - oh - low
Sentence: Stuart had turned into a complete jingolo. There were holiday bells of all sorts everywhere....both at work and at home. He just couldn't stop hanging them as he was sooo into the spirit this year. They were hanging from the doors, halls, walls, cubicles, phones, file cabinets, bathroom fixtures, refrigerator and copy machine....and those were just some of the ones he had adorned the workplace with!
Etymology: Jingle (from jingle bells) Gigolo (a dissolute person; usually a man who is morally unrestrained).... In combination, unrestrained jingle bells
----------------------------
COMMENTS:
Exceptional. A real bellringer that is a-pealing. - silveryaspen, 2008-12-09: 12:13:00
I'm just a jingolo and everywhere I go, I spread joy and mistletoe...cute word - Nosila, 2008-12-09: 23:18:00
good one - OZZIEBOB, 2008-12-13: 16:13:00
----------------------------
Created by: teriaki
Pronunciation: fe-STID-ee-uhs
Sentence: She went about the house hanging each ornament with festidious care.
Etymology: L. festus (festival) + L. taedium (wearisome or tedious state)
Created by: lpr416
Pronunciation:
Sentence: This is the season that makes all "Hollydeckorators" jolly.
Etymology: from "Deck the Halls with Boughs of Holly" and "decorator"
Created by: Stevenson0
Pronunciation: fest/ces/sive
Sentence: She is completely and totally festcessive about the Christmas season.
Etymology: festive + obcessive + excessive
----------------------------
COMMENTS:
Great word! - Mustang, 2007-12-03: 17:51:00
Very nice, and good for all holidays. - purpleartichokes, 2007-12-03: 19:03:00
Another great word! - OZZIEBOB, 2007-12-04: 16:29:00
----------------------------
Created by: Tigger
Pronunciation: /fes-ti-fuh-nat-ik/
Sentence: Every year, on the first day of December, Liz turned into a complete festifanatic. Yet, rather than trying to infect her friends and fellow workers with the holiday spirit, she would instead criticize their lack of spirit and accuse them of being 'ornamentally challenged,' which only further alienated everyone. Liz would always end up spending her holidays alone, despite all her enthusiasm.
Etymology: festive - "of, relating to, or appropriate for a feast or festival." (Latin, féstīvus - "merry") + fanatic (Latin, fānāticus - "pertaining to a temple, inspired by orgiastic rites, frantic")
Created by: Stevenson0
Pronunciation: fest/ces/sive
Sentence: Sylvia took the Christmas carol 'Deck the Halls' and its meaning to the extreme, decorating anything and everything. She is completely and totally festcessive about the Christmas season.
Etymology: festive + obcessive + excessive
----------------------------
COMMENTS:
success-ive - Nosila, 2009-12-14: 16:15:00
----------------------------
Created by: celtiklass
Pronunciation: Decôr-ris-massûr -n.
Sentence: One who decorates anything and everything including themselves with tacky Christmas decorations! Gives new meaning to a little goes a long way!
Etymology: Originated during the tacky 80's. Every town has one!