Vote for the best verboticism.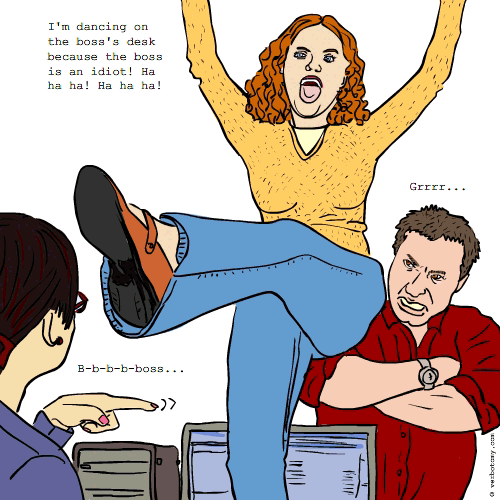 DEFINITION: v., To facilitate camaraderie among your colleagues by making fun at your boss's expense, only to discover that you-know-who is standing right behind you. n., A professional faux pas made with the best intentions.
Verboticisms
Click on each verboticism to read the sentences created by the Verbotomy writers, and to see your voting options...
You have two votes. Click on the words to read the details, then vote your favorite.
Created by: galwaywegian
Pronunciation: tayk the pee fohr tee fie v
Sentence: she started to take the pee and ended up having to takethepeefortyfive
Etymology: p45. take the piss
Created by: Darkreaper
Pronunciation:
Sentence:
Etymology:
Created by: remistram
Pronunciation: tom-teem-uh-ree
Sentence: Ever since the boss got a new hair piece the tomteamery has been non-stop.
Etymology: tomfoolery (joke around, goof off)+ team
Created by: suzanne
Pronunciation: Boss + Ted
Sentence: When he heard her perfectly produce his drawling accent he walked in and bossted her.
Etymology: Boss - person who orders you around, and whom you obey in return for money. busted- to be caught very emphatically.
----------------------------
COMMENTS:
sin a bhfuil - suzanne, 2007-11-24: 20:19:00
----------------------------
Created by: porsche
Pronunciation: spring/sturn
Sentence: She invited serious sprinstern when she made fun of the boss' voice.
Etymology: Bruce Springsteen (the boss) + stern
Created by: thegoatisbad
Pronunciation: 'jir-'si-ted
Sentence: Kimberly was on a roll. "Oh hi. I'm Zinnia and I can't distinguish brie from camembert," she mused. And although Kimberly did know a lot about cheese, she did not know that Zinnia had entered the break room behind her. "You're right" she said meekly, "but neither can most people." Kimberly was now in the hot seat, and embarrassed that the sound of laughter had left her jeersighted. Kimberly took off her beret.
Etymology: jeer (deride with mocking) + sighted (having sight) play on nearsighted
Created by: c1mcgraw
Pronunciation: soo-uh-SEND-up
Sentence: My boss rewarded my suicendup of his sinus-clearing with a pink slip.
Etymology:
Created by: MrDave2176
Pronunciation: v.:lam-PLOY / n.:lam-PLOY-ee
Sentence: Marjorie was lambusted when her boss found her acting the lamployee during bagle-time. lambusted: to be lamploying and get caught by the boss.
Etymology: lampoon is the root for lamployee but lambast is the root for lambust.
Created by: Jabberwocky
Pronunciation: hi/jinxed
Sentence: I've been hijinxed more than once trying to bolster dispirited colleagues.
Etymology: hijinks + jinxed
----------------------------
COMMENTS:
Outstanding!! - Mustang, 2007-11-23: 07:29:00
Excellent! - OZZIEBOB, 2007-11-25: 23:05:00
----------------------------
Created by: mrskellyscl
Pronunciation: ad-min-i-straight-man
Sentence: The boss was the perfect administraightman for Carol until the day he discovered her in the middle of her routine. That was the day she was comic released. Now she's on comic relief because it's hard to find work as an officemocker.
Etymology: administrator: supervisor or boss + straightman: a performer who acts as a stooge for a comedian
----------------------------
COMMENTS:
comical word - Nosila, 2010-03-18: 17:48:00
----------------------------