Vote for the best verboticism.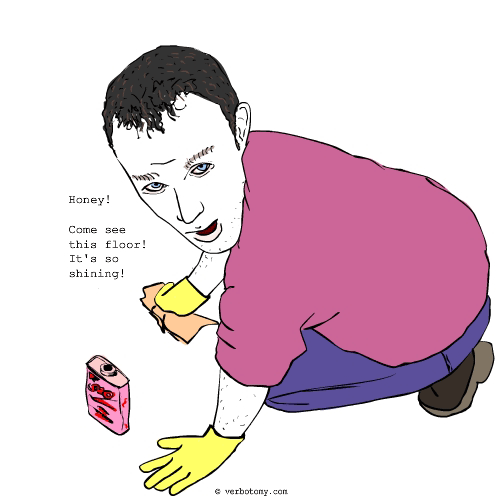 DEFINITION: The happy period in a marriage, which occurs once the husband has been fully domesticated.
Verboticisms
Click on each verboticism to read the sentences created by the Verbotomy writers, and to see your voting options...
You have two votes. Click on the words to read the details, then vote your favorite.
Created by: johnnyrockett
Pronunciation: Spows-bro-ken
Sentence: He happily washed the windows once I had him spousebroken
Etymology: Spouse - a person's partner in marriage. Broken - to train to obedience; tame (But the dictionary also says to ruin financially; make bankrupt, which also fits...Ha)
----------------------------
COMMENTS:
Good one johnny! - wordmeister, 2006-12-28: 09:40:00
Love it! - purpleartichokes, 2006-12-28: 11:32:00
Thanks guys... - johnnyrockett, 2006-12-28: 13:47:00
----------------------------
Created by: awesomo
Pronunciation: bwane-u-lin
Sentence: Garth is very buenuline right now.
Etymology: buen-like good in Spanish + masculine
Created by: dkrider
Pronunciation: nu-ter-vana
Sentence: I'm in nutervana now that my spouse started to put the seat down.
Etymology: neuter + nirvana
Created by: mickey666
Pronunciation: phonetic
Sentence: As he finished washing the dishes, his wife smiled contentedly to herself. Underthethumbitis was rapidly being achieved.
Etymology:
Created by: acebone
Pronunciation:
Sentence:
Etymology:
Created by: J03Yvanalstyne
Pronunciation: huhz boh mehs' tih kayt
Sentence: I am not doing any more housework until you husbomesitcate!
Etymology: husband + domesticate
Created by: rikboyee
Pronunciation: groom-sir-viss
Sentence: The meal he cooked was excellent, the house was sparkling and he loved her passionately...thank god for groomservice
Etymology: groom, room service
----------------------------
COMMENTS:
Nice play on words... - johnnyrockett, 2006-12-28: 01:36:00
----------------------------
Created by: egonschiela
Pronunciation: Sir Vantage (or) Servant Age
Sentence: George's pink rubber gloves were worn during his servantage.
Etymology: Highly improbable.
Created by: limnrix
Pronunciation:
Sentence:
Etymology:
Created by: stormee
Pronunciation: mail-whip-a-dree
Sentence: After seven years of marriage,her husbands malewhipedrey finally came.
Etymology: To become whipped into shape.