Vote for the best verboticism.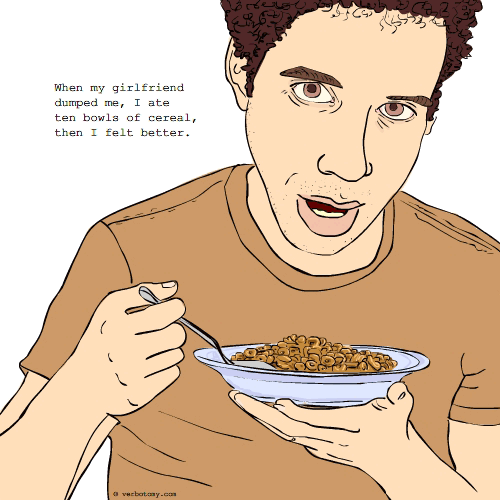 DEFINITION: v. To eat your favorite food, not because you are hungry, but because you are feeling sad or lonely. n. Food which is eaten to satisfy emotional cravings.
Verboticisms
Click on each verboticism to read the sentences created by the Verbotomy writers, and to see your voting options...
You have two votes. Click on the words to read the details, then vote your favorite.
Created by: purpleartichokes
Pronunciation: brake-dred
Sentence: After his wife left him, his daughter ran off with the Hell's Angels, and his dog bit off his left thumb, Mark felt helpless and began to breakdread with a fervor. His drug of choice - consolation fries.
Etymology: break bread (to eat), dread
Created by: Ahmad
Pronunciation: emak-epi
Sentence: He emockapies himself with chines , whenever he is feeling sad.
Etymology: em from emotional , ock from shock, and apy from therapy.
Created by: Alchemist
Pronunciation: PROH-snak
Sentence: When his HMO denied his claim for anti-depressants, Terry turned to Proznacking. I hear he is up to 4 boxes of FiddleFaddle a day.
Etymology: Prozac (popular antidepressant) + snack
----------------------------
COMMENTS:
nice - galwaywegian, 2007-03-12: 07:03:00
A vote for effort! :D - Discoveria, 2007-03-12: 19:19:00
----------------------------
Created by: deannewby
Pronunciation:
Sentence:
Etymology:
Created by: catgrin
Pronunciation: kuhm-feed
Sentence: Beware girls! That comfeeding you do during the holidays can leave you with too-tight jeans!
Etymology: com=first syllable of "comfort" + feed
Created by: allwise
Pronunciation: com-fort-eet-ing
Sentence: It was a vicious circle, he comfortate to fell better, but that made him fat, so he comfortate to feel better...
Etymology: I think I got this one from "Paul McKenna will make you thin!"
----------------------------
COMMENTS:
Comfort eating is what we would call this verboticism anyway. It's like that other one where there was already a phrase in use (Freudian slip). - Discoveria, 2007-03-12: 11:53:00
Can't you be more original then that? Lame - tonya87, 2007-03-12: 15:03:00
tonya87, that wasn't very encouraging...I didn't mean to start anything. - Discoveria, 2007-03-12: 19:19:00
Well, I must say I used that one precisely because there already existed a definition. I think it should be evaluated next to new ones. - allwise, 2007-03-13: 04:50:00
----------------------------
Created by: tonya87
Pronunciation: Bin-g-um-fort
Sentence: When ever I'm depressed I can't help but bingumfort
Etymology: Binge= to eat until stuffed, Comfort= a state of being relaxed and feeling no pain
Created by: Count
Pronunciation:
Sentence:
Etymology:
Created by: artr
Pronunciation: boor-mey
Sentence: Alan doesn't handle the mundane or monotonous well. When he is bored he eats and eats well. No bag of chips for him. When life seems tedious, it's caviar or truffles to make him feel better. Alan's friends refer to him as a boremet.
Etymology: bore (to weary by dullness, tedious repetition) + gourmet (connoisseur of fine food and drink; epicure)
Created by: artr
Pronunciation: imōshənoōdlz
Sentence: Lance uses food to compensate for failed relationships. His current comfort food? Oodles of Emotionoodles. This has proved to be better for the budget than his prior therapy food, sadfron rice.
Etymology: emotional (arousing or characterized by intense feeling) + noodles (a strip, ring, or tube of pasta or a similar dough, typically made with egg and usually eaten with a sauce or in a soup)