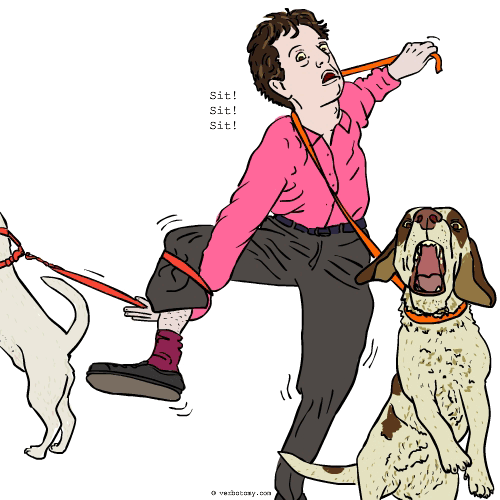 DEFINITION: n. A person who has difficulty controlling their pets, especially if they often become entangled in the leashes. v. To get entangled in the leashes of one's pets.
Omegalomaniac
Top verboticism of the day created by GlobalGallery
Pronunciation: ow-meega-low-may-nee-ack
Sentence: "Their father won Best in Show at Crufts", said Carter with an air of arrogance. He pulled firmly on their leads but his treasured hounds ignored him and continued to sniff the Labrador's butt. Carter's overblown ego made him think he was top dog, but really he was just an omegalomaniac. The dogs ignored him unless he was at the grill cooking, sausages for himself, and rib-eye steaks for them.
Etymology: 1. omega - the last letter of the Greek alphabet. (as opposed to alpha male/dog which is the first). 2. megalomaniac - a pathalogical egoist.
Created by: GlobalGallery.
More Top Verboticisms:
(Invented words created by the Verbotomy Writers)
Petrafried: /PE tri FRIDE/ After being wrapped up in dog leash I was pretty much petrifried. I couldn't move, couldn't get the dogs to settle down and I was ready to cry. Etymology: PET: a beloved animal PETRIFIED: something that is dead, unable to move FRIED: slang for frazzled Created by: kateinkorea.
Muzzletoff: /muz zel toff/ Dogless was a Muzzletoff. He had been born of a wealthy family and was educated in the finest boarding schools. Th only trouble he had was convincing his folks that he could be the best dogwalker on the Planet. They were horrified at a boy of his breeding doing a doggy round up and having asteer home contest every month. He had tough skin and it let him be carried away. Guys like Dogless, they deserved to be lonely and tied up in their work. Etymology: Play on Mazel Tov (Good Fortune in Hebrew) & Muzzle (a leather or wire restraint that fits over an animal's snout (especially a dog's nose and jaws) and prevents it from eating or biting) & Toff (an elegantly dressed man (often with affected manners) Created by: Nosila.
Comments:
Hehe! Good one. - GlobalGallery, 2009-02-03: 08:18:00
Your ending, last line, is ever so fine. Super create that can apply to both dog and man! - silveryaspen, 2009-02-03: 08:56:00
This is hilarious!! - mweinmann, 2009-02-03: 09:51:00
Houndbound: /how nd bow nd/ He was so tired of being hound bound that he got rid of the dogs and bought some chickens which he had hoped would be free range, but as they got lost too often he eventually put them on leads. it wasn't long before he became henmeshed. Etymology: bound, bound Created by: galwaywegian.
Comments:
love henmeshed - Jabberwocky, 2009-02-03: 11:02:00
More...
To see more verboticisms for this definition go to: Sit! Sit! Sit!
More Winning Words:
More Verboticisms! See the winning words for: Dang! Missed again.