Vote for the best verboticism.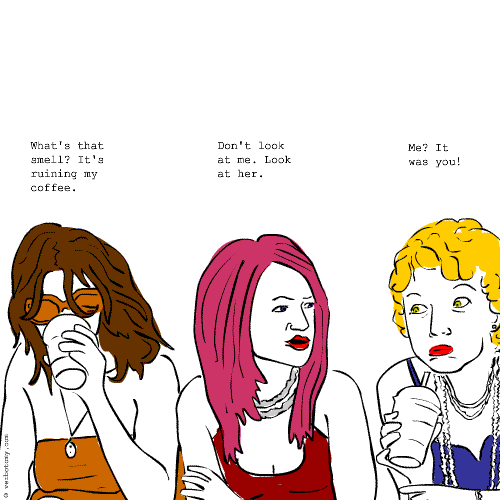 DEFINITION: To habitually blame others for problems, which you not only created, but also helped to foster and develop.
Verboticisms
Click on each verboticism to read the sentences created by the Verbotomy writers, and to see your voting options...
You have two votes. Click on the words to read the details, then vote your favorite.
Created by: jedijawa
Pronunciation: blame-make-er
Sentence: Judy was a blamemaker, she was always causing problems and blaming others for them.
Etymology: blame + maker
Created by: Jabberwocky
Pronunciation: hu/mee/op/a/th/ee
Sentence: Whomeopathy is the ancient practice of passing the blame onto unsuspecting recipients. It requires extensive education and several degrees to practice it effectively.
Etymology: who me? and homeopathy
Created by: jboehnker
Pronunciation: ass kayp' ism
Sentence: Bob's attempt at asscapism backfired when he tried to blame the smell on the dogs, before remembering that his wife got the pets in the divorce.
Etymology: ass + escapism
Created by: cannibalgymnastics
Pronunciation:
Sentence:
Etymology:
Created by: skelk
Pronunciation:
Sentence:
Etymology:
Created by: Adamson
Pronunciation: Far-th-a-way
Sentence: I was would be into deep doo if I did'nt farthaway.
Etymology: Farth+away
Created by: Madamemojo
Pronunciation:
Sentence:
Etymology:
Created by: Trivigo
Pronunciation:
Sentence: In an attempt to shift blame to others, the students began to tuquoquetate as soon as the evidence of their cheating was presented.
Etymology:
Created by: warped
Pronunciation: de/fec/to/ry (phonetic)
Sentence: Phil is a master of defectory, he's always passing the blame on to someone else.
Etymology: Root word is defect, which has two meanings in this case: a shortcoming, fault, or imperfection, OR to desert a cause, country, etc., esp. in order to adopt another
Created by: Kevcom2007
Pronunciation: cohl/pitt/eyes
Sentence: "Hey was that you Fred? Are you trying to culpitize this incident on us? You know though, I'm on anti-farting pills, and well Sheela, she hasn't let one rip in months!"
Etymology: Culpability + it + ize