Vote for the best verboticism.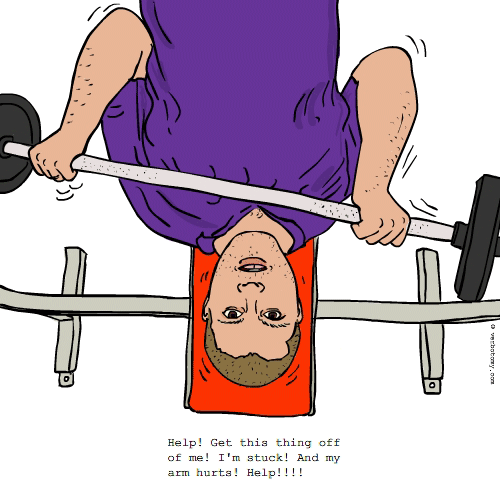 DEFINITION: v. To return to the gym in order to get back in shape, only to over-do-it and injure yourself. n. An injury which is the result of an overly ambitious exercise program.
Verboticisms
Click on each verboticism to read the sentences created by the Verbotomy writers, and to see your voting options...
You have two votes. Click on the words to read the details, then vote your favorite.
Created by: galwaywegian
Pronunciation: were couch
Sentence: The annual january workouch proved as painful as always, the treadmill became a headmill, the bench press got a stranglehold which didn't release it's grip until he had peed on the pilates ball. The visit was followed by the annual visit to the chiropracter.
Etymology: workout, ouch
----------------------------
COMMENTS:
Ouch indeed! - TJayzz, 2008-05-06: 20:56:00
Good one...do you think chiropractors own shares in gyms? mmmm - Nosila, 2008-05-06: 20:06:00
Excellent word! Simple yet versatile. - Tigger, 2008-05-07: 21:57:00
----------------------------
Created by: mweinmann
Pronunciation: jim - jur - ee
Sentence: Gym, Gyminy, Gym, Gyminy, Gym, Gymjury....Milton exclaimed after he lifted the 80 lb weight once again. This time, he felt intense pressure and straining in his groin area. That could not be good.....He should have waited longer after his hernia operation; not to mention that it had been 8 years since his last trip to the gym... This time he knew he had a really bad gymjury!
Etymology: gym, injury
----------------------------
COMMENTS:
Very good. - Mustang, 2009-06-19: 03:03:00
----------------------------
Created by: Stevenson0
Pronunciation: ek/ses/ser/size
Sentence: In spring to rid of the winter lard, people tend to excessercise themselves into sore muscles, joints and injuries.
Etymology: excess + exercise
----------------------------
COMMENTS:
Great word! Perfect fit(ness) - pieceof314, 2008-05-06: 09:31:00
Very good. - OZZIEBOB, 2008-05-06: 17:41:00
----------------------------
Created by: Nosila
Pronunciation: wayt for sur juree
Sentence: Smedley was determined to turn himself from a bookish, skinny nerd into a bronzed, buff love god. Unfortunately, he did not prepare himself properly...his bid to get laser surgery to correct his myopia failed and he needed even stronger glasses. His day at the tanning salon was also a disaster since he looked like a buttered lobster when done. And his weight training at the gym made him tear tendons, ligaments and caused him to become a weightforsurgery case. With any luck he'd be back to his old nerdy self in 6-9 months. He should have left well enough alone!
Etymology: weight (sports equipment used in calisthenic exercises and weightlifting; a weight that is not attached to anything and is raised and lowered by use of the hands and arms) & For Surgery (a medical procedure involving an incision with instruments; performed to repair damage or arrest disease in a living body) Rhymes with Wait for Surgery...all too common and lengthy a wait these days, sadly)
Created by: rebelvin
Pronunciation: hyper-gym-nast
Sentence: You could tell he was heading for hypergymnasty, by the way he overdid it the very first day.
Etymology: hyper-gym-nast
Created by: petaj
Pronunciation: train-crash
Sentence: Connor's traincrash was the worst I'd ever seen at the gym. After two full days of repetitions on the machines, he was so exhausted that he fell asleep against the weights rack, which caused the weights to roll along the floor taking out half the yoga class, the rest of whom ran screaming towards the treadmills causing one of the joggers to lose his footing and suddenly shoot backward wherein he splashed into the pool causing a huge puddle to flood the floor beneath the weight rack giving Connor a terrible electric shock resulting in burns to 75% of his body and a nasty tremor that he'll have for the rest of his life.
Etymology: train (undertake a fitness program) + crash (incident that often causes injury) + train crash (something that is awful to witness)
----------------------------
COMMENTS:
I've had a couple of those. Guess you could say I'm a 'trainwreck'. Great word. - Mustang, 2008-05-06: 04:49:00
too much loco motion, I suppose - galwaywegian, 2008-05-06: 07:49:00
----------------------------
Created by: Mustang
Pronunciation: fit-ness-shlok
Sentence: Melvin once again found that he is a fitnesschlock, in such lousy physical condition that even moderate exercise caused not only excruciating pain, but left him lying on the couch for days recuperating.
Etymology: Blend of 'fitness' (physical condition) and 'schlock' (of low quality or value)
Created by: stache
Pronunciation: jĭm-mām'ē-əm
Sentence: He figued it was just a HALF-marathon, surely it would be no big deal. After all, before he'd laid off running-what was it, three and a nalf years now?-he'd had quite a few fun runs and even that one ten-K under his belt. Predictably, however, the event resulted in extensive gymaimium, from severe shin splints to bleeding, chafed nipples.
Etymology: Gym, var. of Jim, after workout guru Jum Belushi; maimi, var. of Mamie, after famous Jack LaLane mistress, Mamie Eisenhower; um, speech filler related to 'uh.'
----------------------------
COMMENTS:
Galway's workouch goes well with your gymaimium. - Jabberwocky, 2008-05-06: 12:32:00
good word. - OZZIEBOB, 2008-05-06: 17:44:00
----------------------------
Created by: Tigger
Pronunciation: /jim-PARE-ment/
Sentence: Nathan was determined to be able to squeeze himself into his old Speedo bathing suit by summer, and he returned to the gym after a five year hiatus. But, as out-of-shape as he was, he gave himself a gympairment within five minutes of beginning his workout. He was gymbarrassed and felt like a gymposter in front of all the bodybuilders who had to help carry him out to his car. He was a total gymbecile for thinking he could still bench press his body weight like he used to.
Etymology: Gym - athletic facility equipped for sports or physical training (short for gymnasium; from Greek, gymnásion "gymnastic school") + Impairment - damage that results in a reduction of strength or quality (from Middle English, empeiren "to make worse")
----------------------------
COMMENTS:
gympressive...most gympressive...but you are not a gymjedi yet - Jabberwocky, 2008-05-06: 12:24:00
It's gympossible not to love it! There are so many great words today, too bad we can only pick 2! Makes one feel gympotent! - Nosila, 2008-05-06: 20:02:00
----------------------------
Created by: TJayzz
Pronunciation: Jim-nor-zee-um
Sentence: 'Thats it, I've had enough of this fitness lark' said Tom, as he hobbled over to the nearest bench to rest his swollen ankle. 'From now on Im calling this place the gymnausium, cos it makes me sick!!'
Etymology: Gymnasium(A place to get fit and play sport.) + Nausea(To feel sick) =Gymnausim