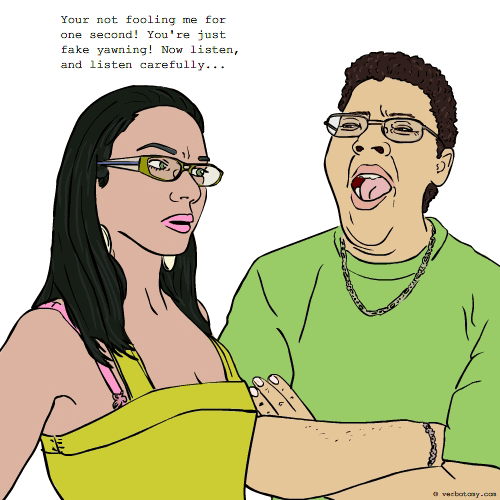 DEFINITION: v., To yawn or sigh repeatedly in an effort to subtly communicate one's lack of interest in the current conversation. n., A series of long, exasperated, and often escalating sighs indicating extreme boredom.
Tedihum
Pronunciation: tee dee hum
Sentence: It took all of Manny's concentration to focus of Felicia's recap of her boring day at work. He expressed his tedihum through so many fake yawns that he actually did fall asleep standing up. That Felicia was a full-bore bore.
Etymology: Tedium (dullness owing to length or slowness;the feeling of being bored by something tedious) & Ho-Hum (interjection used to express boredom, weariness, or contempt) &
Points: 368