Verboticism: Grinvertebrate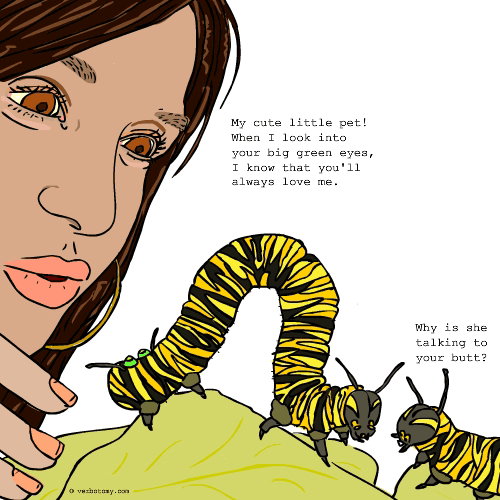 DEFINITION: n. A person who insists that lower life forms (fish, clams, cephalopods, reptiles, or insects) can be affectionate pets and excellent watchdogs. v. To talk to an animal who can't possibly understand a single word you're saying.
Grinvertebrate
Pronunciation: grin ver teb rayt
Sentence: Cynthia loved her pet caterpillar so much and found that his antics made her smile. She called him her little grinvertebrate because he ade her smile. She was brokenhearted when one day he curled up in a leaf and would not listen to her prattling. And then one day, he came out and turned into a beautiful butterfly and flew out the window to migrate to Mexico. My next pet won't be into metamorphosis, she thought...
Etymology: Grin (smile) & Invertebrate (any living creature lacking a backbone or spinal column)
Points: 698