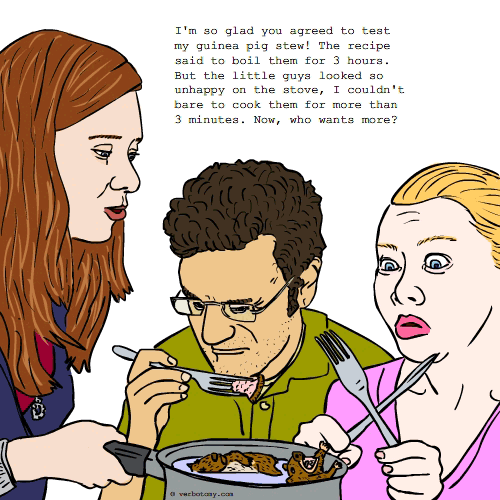 DEFINITION: v. To prepare or process food in a manner that renders it unpalatable, indigestible and completely inedible. n., Food which has been prepared in such a way that it is unfit for human, or even non-human, consumption.
Gastrick
Pronunciation: gas trik
Sentence: Had she really thought about it, people only ever came to one of Meala's candlelight suppers once and never returned. Thinking that each meal was a gourmet adventure, it was actually a gastrick. Her guests(victims) labelled some of her signature dishes with names like: Smoked Salmonella, Ptomainto Soup, Ecoliflour with Cheese,Spaghetti Botulinese,DehliBelly Jelly,Beef Strokenough,Steak Torture,and Escergots.
Etymology: Gastric (relating to or involving the stomach) & Trick (an attempt to get you to do something foolish or imprudent)
Points: 539