Verboticism: Stickydiction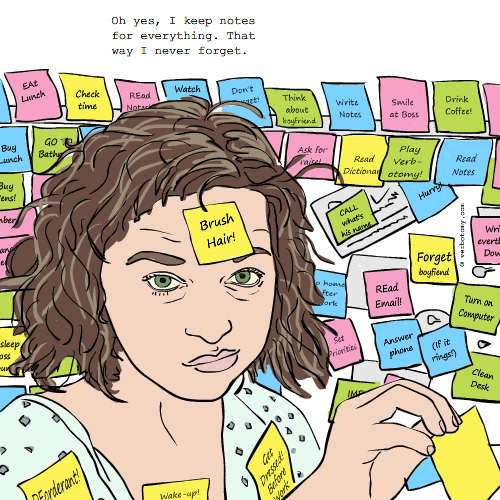 DEFINITION: v., to post sticky notes all over the place, including sticky notes to remind you to read the previously posted sticky notes. n., an obsessive compulsive dependency on sticky notes.
Stickydiction
Created by: artr
Pronunciation: stikēdikshən
Sentence: Phyllis has been a fan of sticky notes for years. She realized it had become a stickydiction when she found herself writing a note and trying to stick it on her husband reminding herself that he had a doctor's appointment.
Etymology: sticky (A Post-it note is a piece of stationery with a re-adherable strip of adhesive on the back, designed for temporarily attaching notes to documents and other surfaces) addiction (the fact or condition of being addicted to a particular substance, thing, or activity)
Points: 491