Verboticism: Trekumenical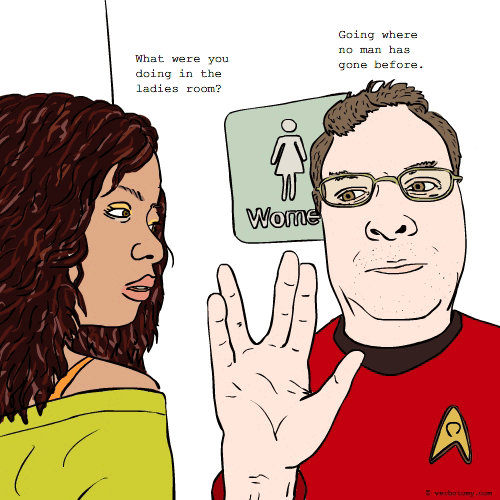 DEFINITION: n. A pop culture entertainment property, which has transcended itself and become a de facto religion with legions of devotees, prescribed rituals and sacred texts. v. To follow a pop culture icon with unquestioning devotion.
Trekumenical
Pronunciation: trek u men i kal
Sentence: According to the Annual fans of the Star Trek conventions worldwide, Gene Roddenberry's classic Star Trek TV series has evolved into a trekumenical phenomena. There is a King James T. Kirk version of the Bible. People who follow this faith are vulcanized, not cannonized. The Starship Enterprize is a modern day Ark. Anyone from any planet may join this faith...the only qualification is that the believer just took up space in school.
Etymology: Trek (referring of course to Star Trek) and Ecumenical (religion of worldwide scope or applicability; concerned with promoting unity among churches or religions)
Points: 611