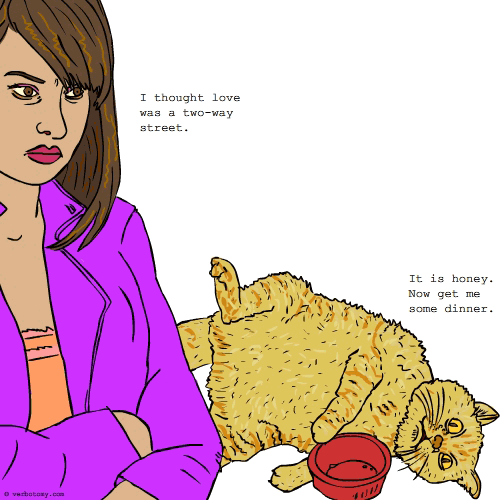 DEFINITION: n. A lovable yet stupid pet. v. To be dumb, fat, lazy, arrogant, and totally, completely, irresistibly cute.
Pollycoddle
Pronunciation: pol lee kod del
Sentence: When Old Lady Harris finally passed on from Shaker's Acres to the Great Beyond, the only thing she left her niece, Bethany, was her beloved, Hyacinth Macaw parrot, Polly. Polly could talk, incessantly, as it turns out and demanded all Bethany's attention. It turns out,too, her aunt had treated Polly like a baby and as a result she had been able to pollycoddle the raucous bird and spoil her rotten. When Polly did not get her way she screached and swore loudly. "Oh well," thought Bethany, "at least she also left me a few bucks to buy food and supplies for the bird". It was with horror then that Bethany read that parrots like Polly lived to the age of one hundred!
Etymology: Polly (popular name for a pet parrot) & Mollycoddle (a pampered darling;treat with excessive indulgence)
Points: 725