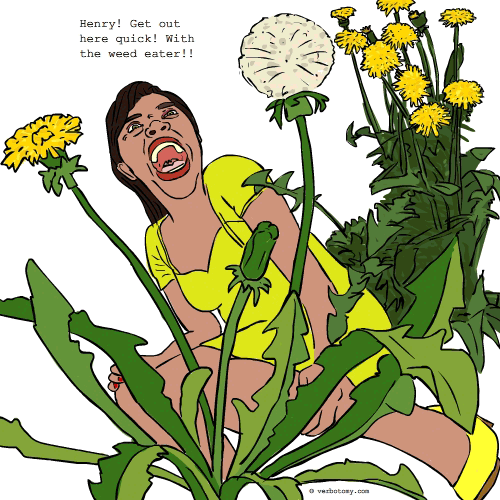 DEFINITION: v. To try to kill a weed that just won't die. n. A weed that just keeps on coming back, no matter what you do to it.
Sasquash
Pronunciation: SAS kwosh
Sentence: Cala had spent many weeks the previous year getting rid of all the different kinds of squash that had grown in her garden. She had made pickles, disguised it in zucchini bread, roasted pumpkin seeds, and cut 20 jack-o-lanterns. She had even simply put some of it in bags which she then dropped off on random doorsteps on her way to work, knowing that her own neighbors would recognize her handiwork. And now it had all returned full force in a spectacularly scary regrowth, with even bigger plants than last year, like Sasquash. Calabashed her head against the wall with the frustration. "Oh my gourd!" she now cried. "It's just not cutecumber any more. It's spaghetting worse every year!" Butternutty ways will have her replanting next summer.
Etymology: Sasquatch + squash
Points: 1244