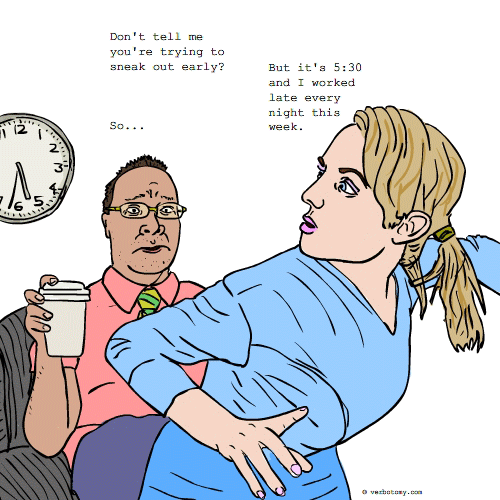 DEFINITION: n. A type of frustration created by a manager who never notices when you work late, but always nags you for leaving early whenever you leave on time. v. To carefully monitor your subordinates to ensure that they never leave work a minute early.
Stimie
Pronunciation: STY mee
Sentence: Early on in his new job, Ernest made the mistake of working late every day to catch up and to prove himself, thinking that would place him in the boss's good favor. Instead, it means that the boss, who himself doesn't usually hit the office until 10 am, has now forgotten Ernest's actual contract hours and assumes he will always be there until 7 pm. So now when Ernest decides to leave on time (5 pm) to actually spend time with his family, he is stimied at every turn by the boss's obvious disapproval. The boss likes to do such things as staring pointedly at his watch, sighing loudly and saying, "I guess I'll have to stay and finish things by myself tonight since there won't be anyone here to help," and making comments about how "people who are team players will the ones to keep their jobs when cuts are made." The funny thing is, Ernest has actually begun to feel guilty and acts apologetic as he is leaving (on time).
Etymology: time + stymie (to frustrate, hinder, or thwart)
Points: 920
Voted For!